Jul. 31, 2007 - Tuesday's Plans

Yesterday went very well in a lot of way! Glory! Despite a late start, we were able to get much done. Brittany got all of her subjects done except for science. She not only got each done but she did two days' worth in almost all as well. She plans on plowing ahead at the speed. Of course the beginning there's a lot of review, etc. but I was thrilled at her work! Dalton did great as well. He exceeded what was required. Samuel thrilled my heart yesterday with his determination to get his work done. At one point I told him he was too tired and needed a nap. He got upset and said, "Please, I want to try some more!". He was having a hard time understanding something in math but due to his perseverance he was able to understand the concept and move over the hurdle. If it were for me, he would still not know the concept this morning. Thank you, Lord, for helping my children help me! Samuel did well in his reading too. He read a few stories and also his Bible lesson, with my help. Jesse and Bethany had a great time learning of creation in Genesis and made a neat craft of the creation of day and night. I didn't get quite as much done with the youngers as I wanted, yet the day was still fulfilling.
So today, we are on another delay! I went to bed at my bedtime but the children were still up watching the movie of Corrie Ten Boom. That's another book I want on the children's reading list for this year.....I think I'll have them write a book report on this one as well! What an amazing life this woman had and how she was used of God! Anyway, they didn't get to bed till after eleven again from watching this movie. Grrrrrrr
James was watching it with them so, hey, it was his call when they were to go to bed.
Anyway, today is piano day. So the teacher comes at 10:45....right after Dalton's math lesson. On any account I am praying for another great day in our new year of school. I am very encouraged right now with the plan.
******Lenni, I think the greens will take maybe 20 minutes or so to cook. Just cook until tender.....but not too mushy...unless you like mushy greens. LOL I never timed them but I guessed 20 minutes and then looked it up in a cookbook and that's what it said as well. Let me know how they come out!
Well, I am off to get moving. I need to do some housework before school gets underway. Have a great day in the Lord!!!

Jul. 30, 2007 - First Day of School for 2007/2008!!!
Okay, so while looking through Dalton and Samuel's curriculum last night to plan for this week I see that I need a science and social studies book to go with their lightunits. And afterall it was midnight while trying to get things filled in the planbook....the children got to bed after eleven. I am bullheaded....we ARE still beginning school today. I'll just skip the science and social studies for the boys till the books come. I have put us on a 1 1/2 hour delay this morning.....I won't relinquish the school day. I won't give!
Yesterday we were gone all day. We had Sunday School, worship, dinner with James' mom, a visit to James' aunt, a few stores and then back for another worship service. After the evening service we ate and fellowshiped with a visiting evangelist, his family, our pastor and his family and another family. What a long day!
Lenni had asked how to cook greens....
Hi Lenni!
Greens are really easy to cook. The hardest part is washing them. To make sure to get rid of the dirt or sand you need to wash them leaf by leaf. After they are washed then chop them up and throw them in a pot with some water. They will cook down quite a bit. You could add some beef or chicken broth if you like. Also, you could add some bacon grease or a few strips of bacon. Allow the greens to cook and then salt and pepper to taste. I know of some who add garlic but we like our's just as well without. We really like collards, mustards and kale. We like turnip greens but not the turnips...although a lot of people do! At the table it have some vinegar or hot sauce added if desired.
Have a great day in the LORD in your homes.
Jul. 27, 2007 - Friday Afternoons
This afternoon we began our new Friday routine. Every Friday afternoon, Lord willing,we will have a weekly "house blessing" ala Flylady where we do a general cleanup of the house. This should take no more than two hours. During the rest of the week we will do general pickup and declutter but the actual cleaning will be during this Friday time. Here's some photos of us at work.
Here's Britta cleaning the tub.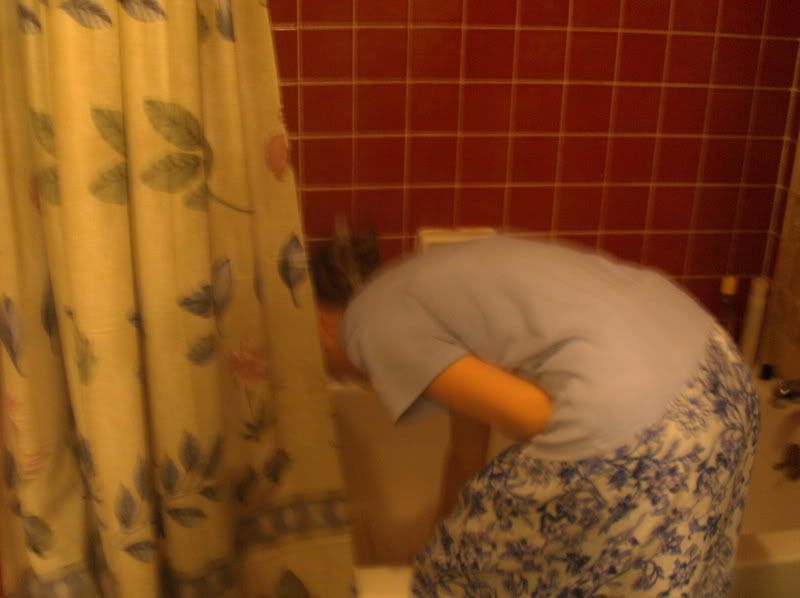 Here's Dalton doing the vacuuming.
Sorry that some of the pics are blurry....I am no photographer by any means. Here's Jesse wiping down the dining chairs.
One of Samuel's jobs is to clean out and under the couch and loveseat.
Here's Bethany "sweeping" the back walkway.
Here I am cleaning off the countertops.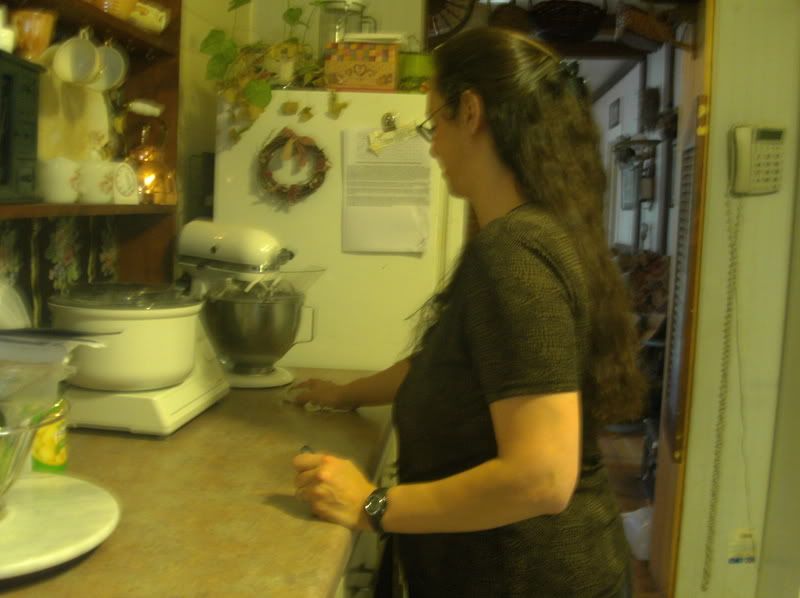 I posted a complete list of our chores in a
previous post
if anyone is interested in what's included in our weekly house blessing.
The trick is to have a goal of having the house decluttered on the day that it's time to clean. I didn't have this completely done. Okay, so it'll get better as the weeks go by. I really like having things clean! It makes for a peaceful feeling in the home. With school beginning on Monday, it'll make managing the home easier too.
Have a blessed weekend in the LORD!
Jul. 27, 2007 - Misc. Pictures of 7/26

Joy-Anna loves to look out through the storm door and see the cars go by or the other children playing. Jesse always feel sort of bad for the younger ones who aren't quite old enough to play outside yet. Every once in a while he'll come visit the babies through the door...much to their delight! Here he was yesterday making such a visit. He's a good big brother. Joy-Anna loves playing "peek a boo" and mimicking her playmates.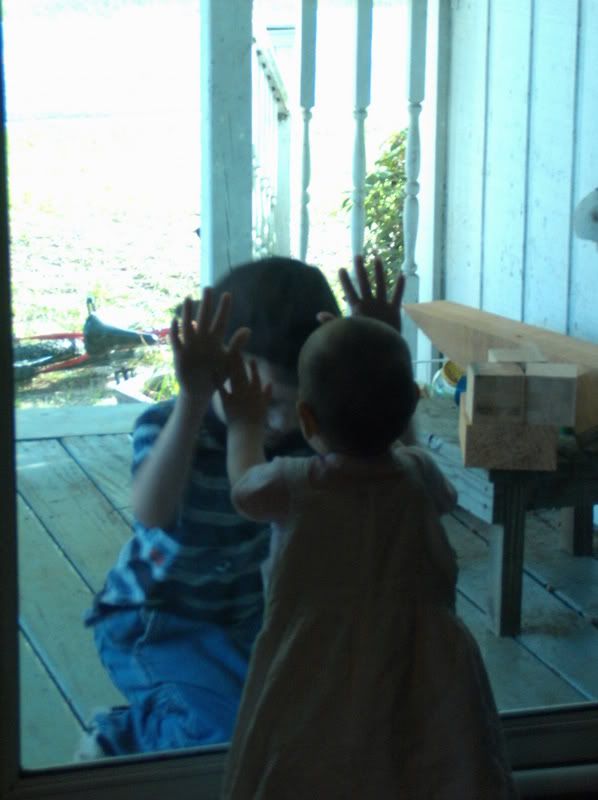 Here's Bethany helping Jesse with one of his chores, loading the dishwasher. I may soon graduate her to this job full time! She does such a grand job. Then I can move him on to another chore. I moved our plates, bowls, and cups down beside the dishwasher a few years ago. It has helped me immensely as the smaller ones can now unload the dishwasher and put things where they go. The only things they can't put away are my cooking utensils and mixing bowls, which are stored above. They just put those by the coffeemaker until I can put them away. The older children can load the DW for me, although I do it a lot of the time. Sorry the picture is blurry, Beth was working fast! : - ) She loves to help! She's good at folding washcloths too.
Brittany took a picture of what we had last night for supper. I love when meals fall into place so easily. The only thing missing on this plate are the sliced tomatoes and cucumbers from our garden. This is one of those yummy frugal meals we have quite often. No, it's not filet mignon but, hey, a country girl can survive! We had pinto beans and sausage, greens, fried squash, cornbread along with the tomatoes and cucumbers. Also, there was some chow chow to go with the beans and greens that my mom canned. It's a type of relish. I'd say this may have cost us all of $3.50! The greens, squash, tomatoes and cucumbers were out of the garden. A bag of beans is all of .99 and sausage was $1.99. Then add in making cornbread and what it took to batter the squash.....a few pieces of bacon to season the beans and that makes a mighty fine meal!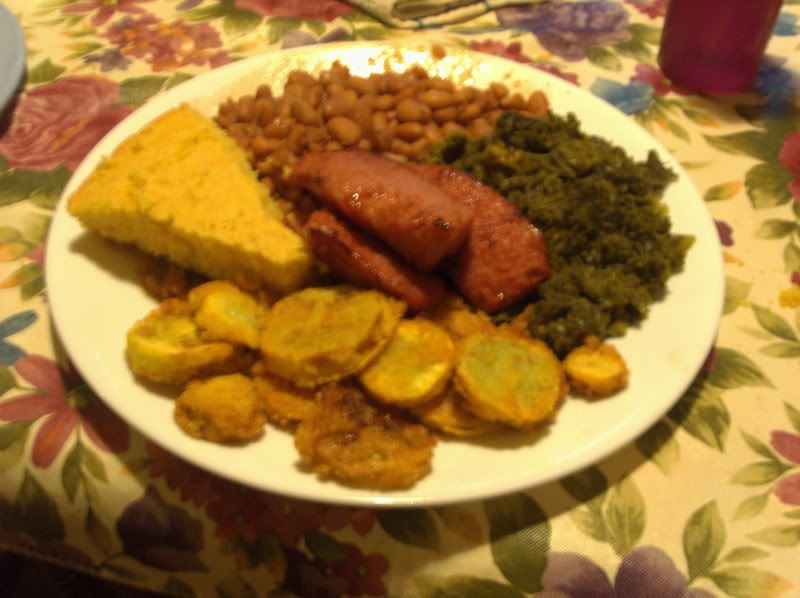 [
Comments - 4
]
Jul. 27, 2007 - Friday Happenings
I find it sort of funny to call this "Friday Happenings" because there's really nothing out of the norm happening today than any other day.
I have to say that we are still getting over this monster of a cold! Late last night we decided that we needed some cold medicine. Bethany had cold coming out of her eyes like crazy and my eyes were awful red and I could feel pressure behind them something fierce. Okay, so I would think that this was bacterial pinkeye except #1 two other families at church had the same thing and #2 we have no itching and other symptoms of bacterial pinkeye and #3 This seems to ease up and then start back. So, Brittany and I head to Walgreens. I am scanning the shelves as to what to get. I eyeball the Aleve Cold and Sinus and remembered that this stuff really helps. So we have to go to the counter for that. So while up there I ask what would be good for children. I told the pharmicist that gook was coming out of my daughter's eye. She says, "oh that's pinkeye and take her to the doctor". Wow, what a help! She has a cold and so far all the other children at church has gotten over it without going to the doctor. So I go back to the shelves and pick up the trustworthy Tylenol Flu. Once home I look up "pinkeye" on google and learn there indeed are two types, one bacterial and one viral. One comes from colds and one not. The one we have should heal on it's own.I am hoping that Bethany is over this by tomorrow so we can go to the church social late tomorrow afternoon! The children are all nervous about not being able to go. I REALLY hope we can!
We are expecting the Sorrell family to come in on their plane tomorrow morning. James and Brittany are going to meet them at the airport for help in getting them and their luggage transported to church. We may be turning our Express over to them for use. They need something. We have the Astro...James just needs to check the breaks as they weren't doing well a while back. "Old Faithful" needs to be driven anyway. How she going to ever die if not? LOL She's getting pretty ugly and needs a paint job but boy does she run! We paid cash for that van 7 1/2 years ago and I told James if she lasted 2 years, I'd be happy and felt we go our money's worth. She is like the Energizer battery and keeps going and going! Okay, another rabbit trail chased...sorry! Keep praying for the Sorrells as they are in travel. Pray that Bro. Stephen can make the trip alright.
Today I need to finish up my lesson planning for the three youngest students. I have Brittany's down for the first week. I am really excited to get started but a wee bit nervous all the same. I really want to do good this year! Today I want us to do our weekly house blessing(cleaning) and that should take no more than 2 hours...depending on how my back wants to behave. LOL Aside from that we have those wicked daily chores.....laundry....dishes...cooking....baths....yada, yada, yada. Oh and to finish cleaning out the Express. I don't know what to fix for supper......steak anyone? LOL I was to do pizza but this doe-doe forgot to get mozzerella cheese.
Okay, I need to rest my back a bit. It's sort of out of it right now. Have a great day in the LORD!

Jul. 24, 2007 - Few of My Favorite Things....
I thought that here and there I'd share a few of my favorite things. You know, things that adds a little delight to everyday things. Simple things that adds pleasure to being a homemaker.
This book I got at Good Will. Honestly, I thought of making an ode of Good Will! I just love that store! I found this book and never had heard of the author until then. I am going to be in search of more books by her! She has great homemaking tips and recipes in here.....love it!
I have a bunch of cookbooks. Here are a few of my older ones I have collected. I have to say, I don't just collect them but I use them. I like old and new cookbooks but I have to say that the old are my favorite! I like to think of the previous owners and what they may have cooked from the books. Did they have a household busy like our's? Oh, what makes the books even more fun are when they have markings and comments on what was tried and liked.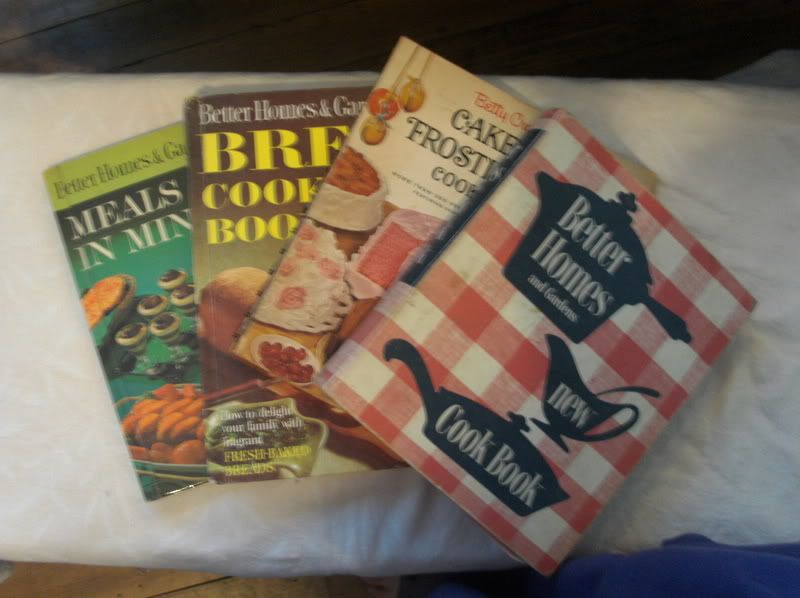 See inside this Better Homes and Gardens Cookbook? There's pictures like this all throughout. I love the nostalgic, retro beauty of the pages.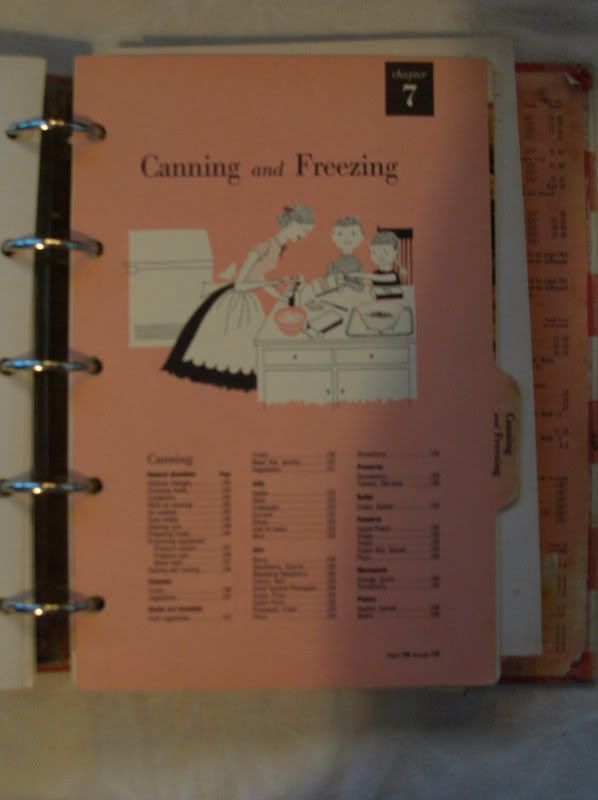 [
Comments - 2
]

Jul. 24, 2007 - The Usual Tuesday
I feel sort of bad when our five year old asks me, "what are we doing tomorrow, Mama?" and all I have to say is, "the same stuff we always do!". Poor guy. He lives each day in anticipation of something cool happening. He has the thoughts of looking forward to the next thing. I suppose that's alright....it'll prevent days from running one into another and becoming drudgery. I think a lot of people live looking forward to the next thing. Just the other day our oldest mentioned that there's "only ten more months" until it's camp meeting time again! Mercy Child....take one thing at a time!
It turns out that the Sorrell family(missionaries) is coming back to the states due to an accident that Brother Stephen was in. I must admit that when I got the first email that I pictured him needing some stitches and that's all.....with each email that comes things seem worse and to the point of him needing some expert advice. Of which there is no expert advice where they are. The whole family is coming along, I guess just in case the news is really bad. He has bleeding on the brain and so please pray that the flight pressure does not make things worse. Please pray he can get the help that he needs. Also pray for Sis. Jill as she's had to make some tough decisions on her own, when usually her husband is the decision maker. Pray she will have the comfort that she made the right decsion to come.
Around here we are still battling a cold. Dalton's ear still hurts and has the usual congestion. I am praying that his ear clears up. We cancelled his piano lesson for today. This cold has made our life not the greatest for almost two weeks now. And that's after getting over another sickness just a few weeks before. Maybe our bodies are desiring schoolwork or something. Is that the antedote? LOL \
Never fear, cause' school is here! That is it will be beginning on Monday. What's that? Do I hear the hallelujah chorus??? I am REALLY excited to get this underway and push through with gusto. I know I'll lose steam after a few weeks but please don't rain on my parade now! I am praying that this is THE year for things to be in total order.....or almost total order anyway. ha-ha I will have to set myself up with motivation, I'm sure. Yes, I am high maintenance when needing motivation.
Okay, I am signing off for now. The house calls me and I need my coffee and shower. I think I'll let the children paint today. Maybe the older ones can do an art lesson for fun too.
[
Comments - 1
]
Jul. 19, 2007 - Thursday Things
Today so far has been a lazy, non-homeschooling day. I have to say...I don't like lazy non-homeschooling days. LOL So in a bit I am going to get some bread going and get the children started on some ministry cards for the military. It's a long overdue project that a missionary we met at April's camp meeting wanted people to get involved in. I told him we would and we will....beginning today. So we will have fun with that. Also, we will do a bit of picking up around the house and fix some vittles for lunch and supper. I'll just heat some soup for lunch and I am still thinking of supper....maybe Ritzy Chicken? I'll be checking the pantry here in a bit.
Yesterday we picked our van up from the dealership as it was supposed to be serviced for free because of a recall.......$215 later here we are with our van and James says the problem is still there. I am stewing not very happy about it and will give them a piece of my mind write a letter to the BBB and GM Inc. over it. Yes, I know we won't be reimbursed. $215 means way too much to THEM. But, yes, it will make me feel better and get it off my chest. So beware when it says a recall is "free" that it may not be so free. Well, they said the recall didn't apply to our van BUT they took liberty to do some adjustments, without our approval and under the understanding that before any work was done that we'd recieve a call first. They lied.
Okay, so tomorrow will be our first day on our new cleaning routine. That's to take place every Friday afternoon....the whole house.....in one afternoon.....in under two hours. I need to sit down and micro synchronize the tasks so that we all aren't bumping into each other. Also, I need to get down the true art of doing and delegating at the same time. That's when it gets tricky and I feel stretched and sometimes discouraged....I will begin with a light heart and remind myself that it can't always go perfect.....
We are still battling a cold. Joy-Anna is all better. I am hoping that we all can get through the little cold bug quickly. Brittany thought she had ear infections for a few days but it was her sinuses bothering her. Thank you for anyone who prayed. The Lord does hear His children's prayers. Than the Lord Almighty for sweet fellowship through prayer. When we can't talk with others, there's always the Lord. No wonder we should have so much peace!
Okay, off to make our bread! Have a blessed day in the LORD.
[
Comments - 2
]
Jul. 16, 2007 - Monday, July 16,2007
Happy Monday!
As I am sitting here eating my breakfast, I am reflecting on our beautiful the day is. I just love the cool of the day...in the mornings when the sun is shining and it's not too hot to enjoy the fresh air. Yes indeed, it does feel easier to meet with the LORD on mornings such as this. James and I have already been to "town" and back. We had to take the Express in for a recall on the steering column. So hopefully that will be all fixed up after today. The nice lady said that it should be done by lunchtime. We'll go after James gets off to pick up the van.
Yesterday I didn't get to go to church for either service! Joy-Anna has a gooky cold coming out of her eyes and had a fever off and on all day yesterday. I think another family at church has the same thing but with a cough. Joy-Anna coughed a wee bit at first on Saturday but hasn't since. I am hoping when she wakes up she'll be better. Yesterday she wanted to be held all day. She did get on the floor a wee bit to play and that freed me for a few moments at a time. But I am always afraid of her picking something up and choking on it. So I don't feel liberty to do much with her on the floor. The playpen she just cried with. Normally I'd let her cry but with her being sick I decided not to.
So hopefully today will be a good day! I have three children up and three still trying to wake up. I have gotten slack with waking them up early... that slowly needs to change these next few weeks as I try to wean us on our new schedule. I finally got the delegation of the chores done. We'll see what needs to be tweaked. Another thing we have to start is shopping in the evening or Saturday morning. I am hoping moreso for Saturday morning so I can sneak some "junking" in. James works a lot of Saturday but hopefully I can go real early and get back before he has to go in to work.
As for our plans today....nothing but the normal chores and play. We will be starting those chore lists though. Have a great Monday!
[
Comments - 2
]
Jul. 14, 2007 - Schedule Talk....Sick Babe
I should be in bed right now. Our Joy-Anna is a sick little one. She's running fever and just seems pitiful. I am hoping she'll wake up better but I have a feeling she won't. I am hoping she does not have an ear infection. Any prayers for her is welcome and I'd be much obliged.
In the latest news of my obsession attempt to get everything organized and running smoothly I have all these lists rushing out of my brain as the speed of lightning. My head is swimming. I cannot retain it all at this very moment. Why am I having it so hard right now? I can't understand it. So in trying to work it all out I thought I'd put down here what my lists are.
First of all, here's my thinking.....I'll do clutter control and general pickup all during the week and see of doing all our cleaning, with the children pitching in, on Friday. At first I died laughing found it unusual to see a large family actually having this idea to work. I was wondering if this was for real.... wait until one day in the week to try and clean it all......we will see. I mean it worked in the "olden" days, right? So, here's my list of what to do on cleaning day:
mop floors(living room, dining area, kitchen, washroom, bathrooms)
dust house(don't forget the mini blinds!)
wipe dining chairs and table legs
clean tub and shower
clean off bathroom vanities
scrub toilets, inside and out
wipe down bathroom walls beside toilets
vacuum
organize pantry
wipe down countertops(Clorox cleanup)
wipe fronts of cabinets
wipe down fridge inside and out
windex house
clean inside and under couch and loveseat
change bed linens
I have yet to see how long each task is going to take. That's my next step. I don't look forward to delegating.... I always struggle with who'd be good at which task......
We also have daily chores. We have a 45 minute slot to get this done, although it won't take that long to complete.
Brittany: feed/water chickens and gather eggs, livingroom general pickup and declutter, girls room general pickup and declutter, put away her and Bethany's clothes that's laid on foot of bed
Dalton: piano practice, feed/water chickens and gather eggs, put away clothes that's laid on game table, sweep dining area
Samuel: piano practice, put away all books in proper spots, take out trash
Jesse: unload DW, pick up all dirty clothes from various spots throughout the house and put in baskets
Bethany: put away all toys, windex front door if needed, general "go for"
Mom: delegator and overseer, of course Isn't that enough?
I have a schedule set up for evening dishes as well:
Monday: Mom
Tuesday: Britt
Wednesday: Dalton
Thursday: Samuel
Friday: Mom
Saturday: Brittany
There will be quite a bit of time that the 3yo and the 5you will have to stay busy without the older ones there to help. The older ones and myself will be busy with school. As for the baby, all I can say is that there's the playpen, the booster seat, blanket time and Mama's lap to keep her content. I don't have her doing specifics yet. It's always worked out before this way....maybe it'll continue. Anyway, here's the 3yo and 5yo's list of what to do.
Monday: color(30 minutes), paint(30 minutes)
Tuesday: blocks(30 min.), bubbles(30 min.)
Wednesday: playdough(30min.), puzzles(30min.)
Thursday: paste shapes on paper(30 minutes), preschool game such as Memory or Candyland(30min.)
Friday: We won't need activities for this day as the afternoons will be for cleanup day.
I had a meal list for breakfast and lunch filled out but now have misplaced it. I will have to relocate it and put this on later. I realize this is probably micro-managed a little too much for some people's taste but I also realize it's neccessary for our household to run smoothly. Hopefully once I get all the slots planned out on our schedule I will put a copy on here to share. I know this is monotoniously boring but I think it's more for my benefit of sanity than a usual blog entry. But who knows....it could be helpful to someone else whose desperately barely afloat looking for ideas.
Have a blessed Lord's Day!
[
Comments - 1
]
Jul. 12, 2007 - The More I Know, The Less I Know
HHHEEEELLLLLPPPPP!!!!!!!!!!!!!!!!!!!!!!!!!!!!
That's what is going through my mind lately. I am working on end of year paperwork for 2006-2007 and yet getting things straight this school year. I have to say; I AM SCARED. Everything that I thought I had the answers for before has suddenly became somewhat unclear. I have forgotten my own advice. Novice homeschool moms ask me questions and I draw a blank. I feel like say, "You're asking ME? Duh, I don't know". Hey, I can through answers out and make myself sound like I know what I'm doing and that it's all easy. But hey, it's not. I don't have this together....we are adding another student to the school this year and I was scrapping by with teaching the third. I try to psyche myself up that I CAN do this.....I know I have to do this.
So, I am making our newest schedule. That's my first concrete step aside from leaning on God's infinite wisdom. A schedule is a must. Okay, the other day I am making this thing out and I noticed that between 8:00am and 4:15pm there is no time for any choring. I do have time for lunch and "quiet time". I HAVE to have my quiet time.....I suppose this would be "recess" in some people's minds....for me it's called a NAP. Alright.....what's it to be like with no time for cleanup in between those hours? For those of you with a lot of children...especially with high school students and wee ones all at once, is this normal?
Okay, so some moms(and I am talking about ones with several children spanning several years) seem to do it all....their children are waaaayyyy behind in school.....do they even do school? Some moms really do school but maybe household priorities are less than to be desired for my taste. Am I being too uptight and asking too much?
I have the MOTH book....love it....but you know something's not clicking.....
Alright, so here's the classic question that I haven't had any trouble with till now. WHAT DO I DO WITH THE BABIES DURING SCHOOL? We don't "do" t.v. with the exception of video periodically. My children really don't like to color and the baby can't. I really don't have time to sit and browse the web looking for answers so I am posting here in hopes that the answers will come to me. Any suggestions or websites share with me? Come on, all you wise and experienced moms who have all the right, tried and true answers.
[
Comments - 3
]