Dec. 20, 2007 - Home Addition News
Well, James talked with Mr. Inspector and he said that the door wasn't the problem but the window in the stairway. So we are going to have the window glass coated with a temper coating. Mr. Inspector said we could proceed and he'll inspect that at the final inspection. The builders came and fixed the problem with the bracing. The electricians can't come till Monday to fix the smoke detector. James is hot on the trail to get the drywall started. He called Mr. Inspector and explained that it was a long weekend and all and we really wanted to drywall but we couldn't get the electricians back in time. So he said as long as we don't drywall over anything he has to reinspect that we could go ahead! Yeah! So over the long weekend we are to do vinyl siding by day and drywall by night. I think that this is where the addition will really begin to look like part of a home.
Oh, a few nights ago we were at Target and we found some things for our laundry/ family closet! Yeah! The stuff was even cheaper than what I had found online. Gotta love it.
We have started out break until after the new year. I will have an opportunity to catch up on logging in all their work they've completed. I will feel relieved to have that done. I am ready for a break. Right now I am on antibiotics to hopefully take care of what I hope to be an urinary tract infection. I pray that's what it is anyway.
I better get going. I need to rest a bit and then do a quick tidy before James makes it home. It's been a long day but a good one.
[
Comments - 4
]
Dec. 20, 2007 - Oh how I love Good Will!
You may recall my telling you about some sweet hairbows I picked up at Good Will. Well, these are just some of the ones I found! We have been enjoying "Monkey" wearing them. We also were able to give some to a friend who has a house almost full of girls. I snatched about twenty of those things and am so glad....I wish I had picked them all up.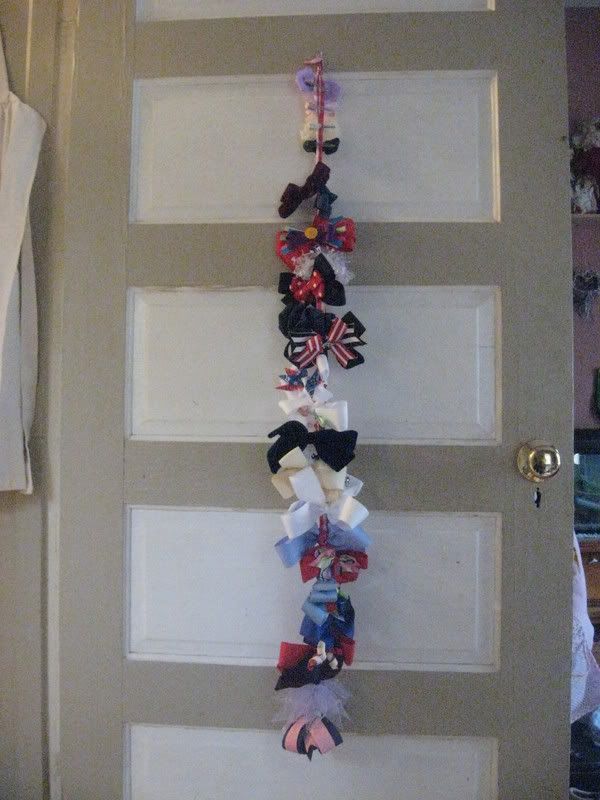 Well today I was thinking that Brittany needed some more blouses. So off to Good Will we go! She did find a few but we were able to rack up in the shoe department! Well, these pics are in a different order.....here's a pair that we got from Walmart for $1!!!!!!!!! Actually Monkey had to wear them as soon as we got home. So much for saving them for summer!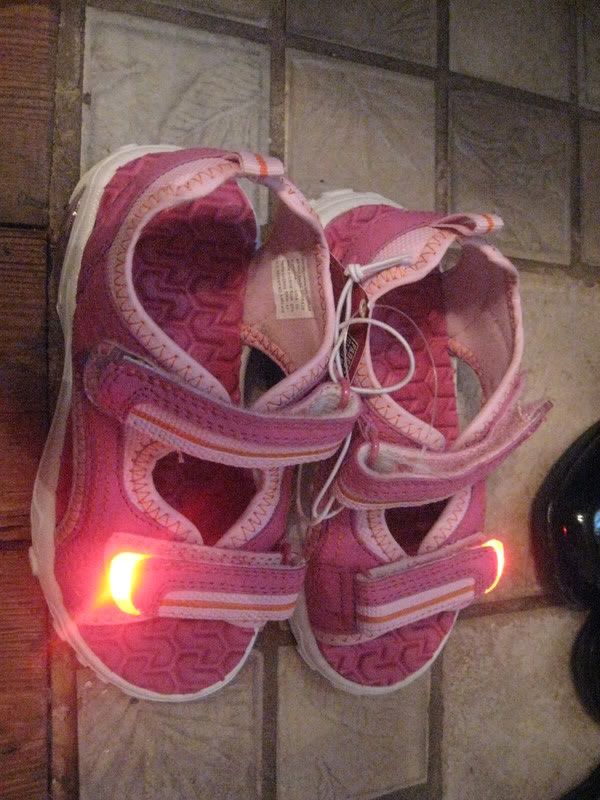 All of these shoes that you see below we got for a total of $20! This picture doesn't do the shoes justice really. We found some for all our girls and the brown pair is going to a friend....the same friend that got some bows that has the house almost full of girls. Ha! She's always giving us goodies and her mom is good at doing the same so we switch around when we find goodies.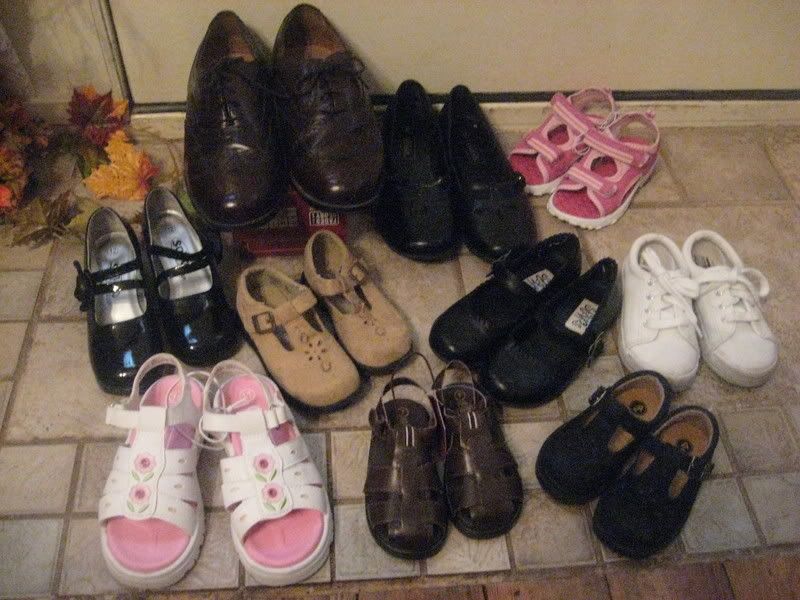 Another deal that I found today we a Gerry aluminum frame backpack for $2!! Yeah! Well, okay so I already had one that we've had for years and I love it so much that I had to get this one. I am keeping one and giving the other to a friend....the same one that got the bows and will get the pair of shoes.
Okay, that's my deals for the day!
After Good Will we went to Walmart to get enough food to last through the long weekend. I was SO glad to get out of there! We ate peanut butter crackers and discounted doughnuts on the way home(complete with .40 a can Walmart cola) for lunch. Yeah, it's not too nutritional but hey....it'll all be alright!
[
Comments - 1
]
Dec. 18, 2007 - Inspection and a New Week
Well, we did not pass inspection. I think that's pretty much normal....especially in the county we live in. Per the inspector's notes we need to put a smoke detector upstairs in the playroom. Okay, he must think that this is a bedroom....and maybe technically if we sold the house it would be considered one.... Next, "Mr. Inspector says we need to have a door with tempered glass. We got this door for free and it's used. Brad, our builder, to James that we could just put tint over the window and it would be considered tempered. The thing is that I don't want the window tinted but James says we can take it off after it's all said and done. Third and the weirdest thing and one James is waiting for the inspector to call back on, is the note that said that there needs to be bracing on the footwall. Okay, so James calls Brad to ask him about this because we never heard of a footwall. We have heard of a kneewall but footwall? Brad says he's never heard of a footwall. Aaaaahhh, the world of inpections in our county! Gotta' love it!~ So hopefully our questions will be answered today when James talks with Mr. Inspector. Then hopefully we can get this stuff fixed this week and get a reinspection next week to start drywall and such! James says we will do vinyl siding by day and drywall by night. That sounds like a good plan. My hubby is so smart!
Healthwise I have had one humdinger of a trip this past month! Well....I had all the gory details typed out but decided it's probably TMI. So I deleted it. I think and pray that I am on the road to recovery. I do think that I have found something that I might have to deal with for the rest of my life, although not life threatening....it could affect the quality of my life. Ugh. Let's just hope not!
I am trying some homeopathic tablets for the three bedwetters in the family. They are not working, although I hope they kick in soon. This would be cheaper than goodnights and a whole lot less aggravating. We'll see if they begin working.
Okay, the temp has risen 6 degrees since beginning this post! When I arrived at the computer it was 19 degrees. The insulation installers are coming to insulate underneath the floor of our old side. I really hope it makes a difference. This house has always been really cold in the winter. Then if we have enough in the allowance, we are going to replace all windows! Anyhow, I am not looking forward to working out in this freezing cold. I really feel for the ones in the ice storms. I never heard....but I pray there were no fatalities. This time of year can be really hard on folks with no heat or having to work out on the hazardous roads.
Here's my list for the day:
~school(3 1/2 hours)
~ Read aloud ....we're currently reading Kidnapped
~scrub the kitchen
~wash three or so loads of wash and put away all five.
~ make a run to the store. We are out of a few things. To make it to the end of the month I have to pick up some more lunch items. Finding out what's to eat totally zaps my energy. I must begin thinking out our menus and grocery lists more clearly. That's my goal beginning for January! I have become slack these past few months....since dealing with home addition work.
~Cook. Here's our menu for the day; B-fast: egg sandwiches, lunch: chili mac(leftover chili that I am adding elbow macaroni and more tomato sauce to), Supper: broiled fish, rice and gravy and green beans...or butter beans. LOL
~Last on the list but shouldn't be last in my heart....reading my Bible. I am in II Corinthians now. I am also going to read Hosea as well. I should be done with these two at the end of the week.
Have a great day in the LORD!~
[
Comments - 1
]
Dec. 14, 2007 - Random Thoughts
While sitting in the midst of the boys' room I had that overwhelming, discouraging feeling. That feeling of, "ugh, what am I going to do with this mess? How can I get it all organized and straight?". There were matchbox cars, blocks, clothes, books and even a used goodnight (I found the smell in the room, blah!) all strewn together. A pile of dirty clothes sits in the corner waiting for attention. I was hoping that those were the only dirty clothes in the room. I was just disgusted. Then brought to my mind is the reality of what's to come in just a few short months. If. I. can. hang. on. Glory, glory, glory!!!! Toys will be in the playroom, clothes in the washroom/ family closet and no where for an old "goodnight" to get lost in. Glory to God! It seems now that when I tell the boys to go clean their room they walk in with a blank look and are thinking, "where do I put things? Where to start?". I have to say I am so excited to have this extra space, not just to have a bigger house but to help gain some joy back into our day. To have a home for everything. There won't be anymore having to clear the books off the table to eat. No, there will be a school table--- in the schoolroom, a dining table---in the dining room. We can have a puzzle table now. I have always wanted a puzzle table so that we could work on them together and just...talk. This addition isn't just a thing. It's a tool to give us order, peace and a sense of accomplishment. We can clean a room and it's looks clean. I. can't. wait. The only thing better is the Lord coming first.
The installers of the insulation are here now. The rooms will be closed in then! What fun! Then it'll be time for inspection(GULP!). I really pray we pass. That's the only thing I am leery of. Anyway, those are my random thoughts for the day.
[
Comments - 1
]
Dec. 13, 2007 - Miscellanies of Now
Boy, who ever thought that adding on could mess up your schedule? I didn't head for bed until 1:00 this morning. That's so not me. After church we worked to do construction cleanup in order for the insulation installers to work easily.
As for today, we have a lot of school on the agenda. Things have been getting exciting around here for Samuel. He's up to a full load with schooling. I have gotten him established with spelling, grammar and handwriting....along with math, science, reading and social studies. I think he really thrives on the full work load. The others, however, grumble and mumble. I remind them that this isn't what the Lord would have and to do it with JOY. After all, they might as well. It's not going anywhere and neither are they.
Alright so it looks like the children are putting on that "I'm hungry and gonna' die" look. They are glancing at me with that wondering of when I am going to cook. ........yes, with JOY I shall go fix breakfast.
[
Comments - 1
]
Dec. 11, 2007 - No, It's Not That
Two people have asked if I am pregnant. No, I am not. It's the opposite result of being pregnant....the other thing since the time of Eve. Brittany said that she saw why y'all thought it was my being pregnant. I didn't even think of that. I would definitely be more excited if I were but, no, I'm not. Oh, this other thing was worse than some labor I have had. No joke. What's up with that? I am feeling much better now, anyway. Thank you!
[
Comments - 3
]
Dec. 11, 2007 - Busy Tidbits
I decided to jump on real quick before getting the children started on their studies. We have catch up work to do from yesterday. I just wasn't up to teaching yesterday. I really could take off today too but I was thinking of what I'd try to do if this was an outside job.....I'd try going in to work. So, I must try and do the same today. I am fine so don't worry. This "sickness" has reached back to the time of Eve. 'Nuff said.
Despite not teaching I was able to get quite a bit of cleaning accomplished. I started out by sweeping our new porch! Yes! That was SO NICE. James and the boys finished the porch and steps late Saturday evening. James did such a wonderful job~! I'll have to post a pic later. We are thinking of painting it brown. We were stuck between the existing gray on the old part to brown. I saw someone's porch done in brown and just LOVE it.
I also got some mopping, vacuuming, dusting and windexing done. The dishes got done and meals were served. I did was a few loads of clothes but they haven't been folded. OOPS! Besides this I have been sitting and reading. You know, looking at what all work I did I still can't for the life of me see why my house is messy! I need to tidy some today as well.
In the midst of all else I took time out to spray paint the brass chandelier and vanity lights. I painted them black. So now the chandelier looks like wrought iron. I am a wrought iron kind of gal. LOL Now, James says he doesn't know if the vanity light will work in the new bathroom. I have another one that's bigger that we might can put in there but it must be painted too. I might see if I can find some nickel colored paint and then it'll match the hardward in that bathroom. Spray paint is cheap. I can buy used stuff that's not exactly pretty and gussy it up with some paint. Black paint is a must have around here. Oh yeah, I have a beautiful old metal glider given to us many years ago and I want to repaint it to put on the porch. I am deciding on what color to go with.....red....yellow.....green? I am going to repaint our swing but I think I am going for bright cherry red with that. Oh. what. fun!
Okay, so it still feels like Grand Central Station here but I cannot complain in the least. Progress is being made~! Today the electricians should finish up the rough in work. Saturday someone came by to bid on doing the insulation. He can actually install it CHEAPER than we can buy it. So he may start as early as tomorrow or Thursday! A man showing James how to do the siding came by yesterday for a bit. James has gotten started on this. So today we have electricians and tomorrow maybe insulation installers. We may be able to start drywalling as early as sometime next week! It depends on how inspection goes((((shudder))))). We are still looking at being finished sometime in February. Time is moving so swiftly! Things still seem like dream. I dare to get excited about our new home but try to stay grounded. I am humbled that the Lord, indeed, did allow us to do this. I am so thankful that He has made things run smoothly and feel His hand has helped us all the way. I pray that the ease of having a bigger home will help me be of better service to Him.....to do what He'd want me to do even better than before.
Okay, so now on to one of those tasks......SCHOOL!
[
Comments - 2
]
Dec. 6, 2007 - Addition Pictures
Here are some pictures of the addition progress...
new electrical outlets! I have to say, I didn't think there were going to be so many outlets. In the children's rooms there are about nine sets of outlets! I think it's the same in the playroom as well. I was apprehensive about so many outlets in the playroom but there has to be to meet code. Isn't that crazy? Also, we will have more lighting fixtures than I had planned. I thought of one light for the hall but there will be two. Also we had planned on one light for the stairway...there will be two there as well. So we have already picked out lights for those areas.
They are also installing switches to control the ceiling fans at the wall! How cool is that?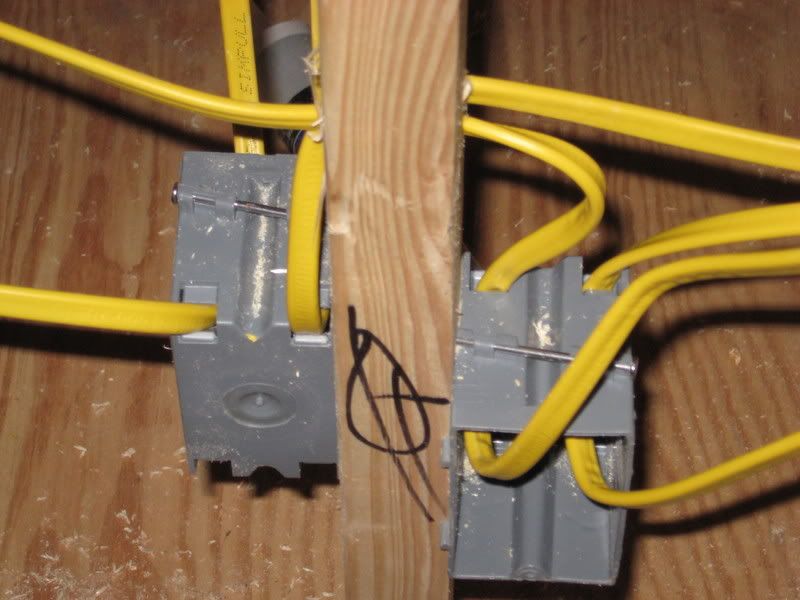 The new window.... (this is the cute bathroom window...It's tiny!). This is one of the new windows. This window reminds me of a playhouse window as it's so small and cute. I will have to see about curtains in here later. James' aunt had always had cute curtains in her bathroom made from bath towels. I might do the same.....I don't know!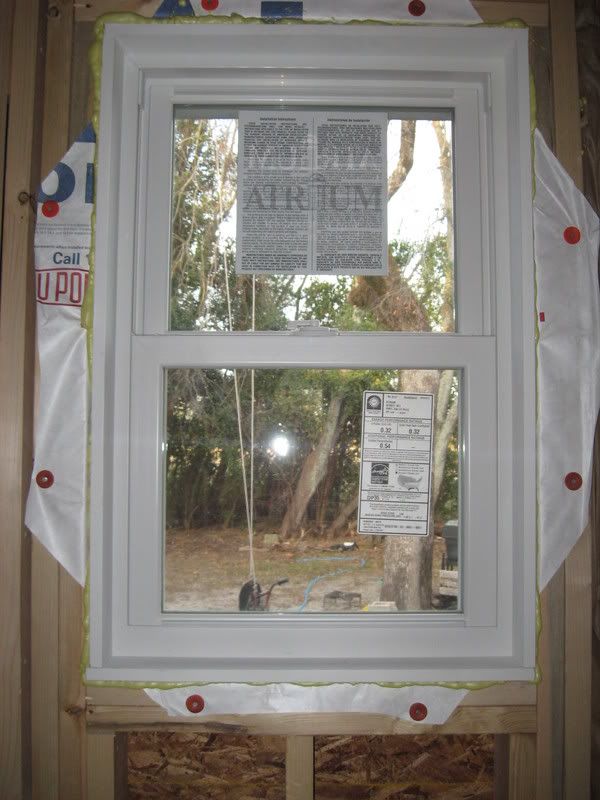 Some of the porch. It's not completely finished, but we're still working on it! James and Brittany are the main workers on this project. I am excited to have the whole porch done. It will be nice to sit and enjoy.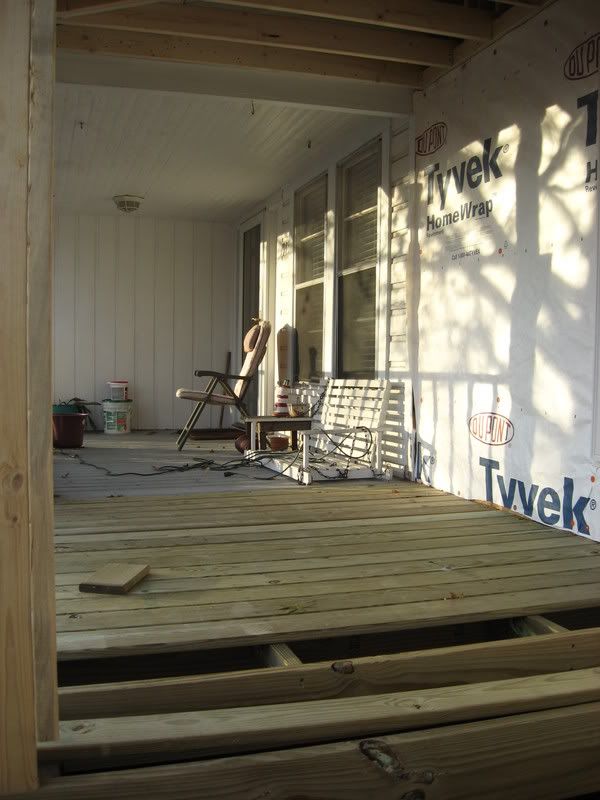 James has bought a wee bit of vinyl siding to begin on soon. We are having someone to come over and show us how, Lord willing. If he doesn't get a move on to do this then we have someone else in mind to show us.
Also, we are suppose to have someone come and give us an estimate on putting in the insulation. Our builders told James that these people can install it as cheap as we can by it. I don't know possibly how but we'd love an estimate!
Well, the electricians have been very quiet today and not around here much. I wonder what they're up to! We are ready to have it done. Hey, I guess we don't need to complain as they are giving us a good deal.....a very, very good deal. God is good all the time.
That's all for now!
[
Comments - 3
]
Dec. 5, 2007 - Busy Week!
Wow, it's Wednesday already? Time sure is going so quickly, especially today and yesterday. Yesterday I made a walk in visit to the local doctor. I wasn't feeling all that great and so went in to make sure all was well and that I didn't have a UTI. I didn't! So then I was mad at myself for going in and costing us money. Hopefully this bill will be as good as the last. I do have a stubborn yeast infection and the Dr. gave me a prescription to take care of that. I am saving it just in case the over the counter stuff doesn't work. After the Dr. visit the piano teacher came. We had lunch then we laid down for rest and the next thing I know it's time to cook! YIKES! Time was at a loss, it seemed. I guess we all have days like that.
This morning at 7:00am the phone rings and it's the electrician calling to say they'd be here in about an hour. Another YIKES! So I skip the coffee and get to tidying our room just in case they need to get to the breaker box. Once this was done I set to work in serving breakfast. After cleaning the kitchen I began the children on their schooling. Dalton(aka Speedy) gets done in no time so I had to give him some busy work. Then it was time for lunch so away I went to fix grilled cheese and chicken and rice soup. While in there I decide to go ahead and put the macaroni and cheese bake together so it'll be ready to bake when it's time. I am going to fry some HIllshire Farms sausage to go with. We also have some succotash and mashed potatoes left over from last night's supper. Whatever succotash isn't ate tonight will be hidden in a vegetable beef soup tomorrow night....and I KNOW there will be some left. Ha-Ha! Anyway, so after lunch I put the wee ones to bed and set the children to doing their school again. I gave Dalton more to do. I gave him his next reading book. It's a sixth grade book as he's finished the fifth grade. He says he can't do it as it's a sixth grade book. I just tell him, "yeah right, read it!". At about two the electricians say they have an emergency call and have to leave. So off they go until tomorrow. We sneak over to see their progress and that's SUCH A BLESSING! It's neat to see where all the outlet boxes and light switches are going. James is going to have them put an exterior outlet box on both the front and back of the house. We have one but it's way on the other side. This will be fun! So now the children are back in here and doing school.
Once the wee ones wake up I am going to do preschool/kindergarten with them. We are having such a great time in that! We all sit like Indians during "circle time" and I play games with the letters and numbers flash cards. We sing a few songs, pray and have a short story. This can go on for thirty minutes or more. Then we have table time and that's when they are working out of workbooks or sheets printed from Internet. We will have puzzles sometimes, or play dough or another craft such as cut and paste. Sometimes I will add in a story about history or science, depending on how time allows. Monday they made apple trees for the letter "A". Today they are going to color Bibles for "B". I have a story on God giving us our Bible. I want to go through each letter of the alphabet. The wee ones love telling Daddy what they have done for the day.
So this will take up the rest of the afternoon, along with folding laundry and finishing up supper. Then it'll be time to get ready for church! We are hoping to get an early start in departing for that.
Have a great rest of the week in the LORD!
[
Comments - 1
]
Dec. 1, 2007 - Week in Review
Where has the week gone? Actually, things started out pretty slow as we were trying to get in the groove after Thanksgiving. By Thursday we were doing better, despite doing our big grocery shopping trip for the month of December that day. I am REALLY hoping for a fantastic week in school next week. I need it to have a sense of satisfaction.
As for working on the additon, things are coming along slowly. The builders came to put in the windows and door frame on Friday. I was glad for that as that completes their part of construction. James and I had started working on boots for the heating and air along with air returns but one of James' friends from work worked with him to get it up to where we are now. This fellow is single and really has a lot of time to help out. Today after church prayer meeting and visitation we ran a few errands and fixed a friend's heating unit. Once home James, Dalton and Brittany worked on putting the decking boards on the new part of the porch. They are about 1/3 of the way done. I will be excited to have this done so we can utilize that side!
While they were working outside I fixed supper and cleaned up the kitchen a bit. We had salmon patties, butter beans, rice and gravy. Tonight I am putting together a meatball stew for the crockpot. It's the perfect thing to be simmering while at church. Then tomorrow night we will probably have leftovers from tonight and dinner tomorrow. YUM! As for breakfast in the morning, I am thinking of cinnamon rolls or cheese biscuits. I need to be deciding! I had thought of browning a bit of sausage and mixing that in my usual cheese biscuit recipe. I thought it'd give it a little twist.
So, now I need to finish tidying the livingroom and set the table for dinner tomorrow. I think I'll have the children eat in the kitchen tomorrow morning so the table won't be disturbed for dinner. We live a little ways from church and so a lot of times by the time we get home and I get dinner on the table we are very hungry. Since the church isn't mysteriously going to move closer, I needed to come up with quicker ways to get food in our bellies. Also, as our pastor says, he preaches for twenty minutes......at least! It's always for twenty minutes but usually an hour. LOL We like the preaching. Anyway, I have decided that I might keep our new dishes from my previous post as Sunday dishes. Now I need to find some more to match! I am so thankful for those!
Oh yeah, yesterday I ran up on a few good deals at Good Will again. Okay, so you know each time I go into that store I pray for the LORD to lead me to what he'd want me to pick up. That's very important, for Him to help me know what to get. Well, sometimes it's obvious without a shadow of a doubt what's the right thing to get. That happened yesterday. I had picked up a skirt for $2 along with some more greenery in a pretty basket. As I was rounding my way to the checkout when lo and behold there sitteth a basket of hair bows. A big basket of beautiful hairbows. An answer to prayer. My very next thought was to call my friend who might want some of these goodies. The thought after that was #1 her friend was making her a batch of bows in any and all colors she wants so she might not be interested in paying for some and #2 she might not want used bows. Some people would feel weird about that. Not I!!! Okay, I am all into hygiene and the whole bit but these bows are so pretty. Besides, live critters live on stuff for only so long. I bought 23 or 24 of them. Yes, that's right. I think I have enough to match any and all outfits(almost anyway). Then I come home and remember reading about a lady on another blog buying some at thrift stores too. So I went to her blog and then saw that she had referred a website on how to make bows as well. Yippee! So if we do need another color for an outfit then we can just make them. As a matter of fact, Brittany did just for fun. So, that was my prized find of the last trip to Good Will. Aaahhhh, gotta love the place! Stay tuned for a pic of the bows and link to webpage on bow making.
I must go now and finish my chores. It's very late and I am very tired. G'night and have a great day in the LORD~!
[
Comments - 3
]