Jan. 31, 2008 - The Budget....The Trip
It's budgetting time again, Folks! I am in for the challenge this month. I am totally psyched with this new CVS deal that I am participating in. Oh, and I can't forget the Walgreens deals as well. Anyway, our budget for the month of February is $375.00. This includes all paper and cleaning products as well. This is quite a challenge for a family our size, but hey, I've been practicing this game for years as well. So I am not scared. So here's to the first shop of the month.
First, the list. We've gotta have a game plan, right? That means that we needed to pull out the sales ads and scour the papers. We need to clip those coupons and match them to the ads, write our lists and menus. Now, we're set.....well, errrrr....ummmmm....after what seemed like hours to get the children all dressed. By the way, isn't someones gonna do some laundry around here? Oh yeah, ah-hem that's my job. Now, where were we? Oh yeah, shopping.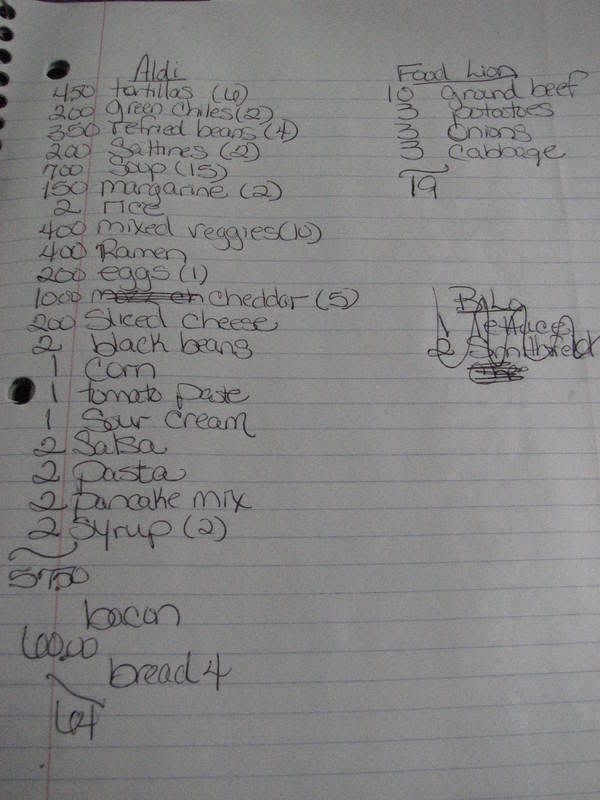 Then the head shopper in chief....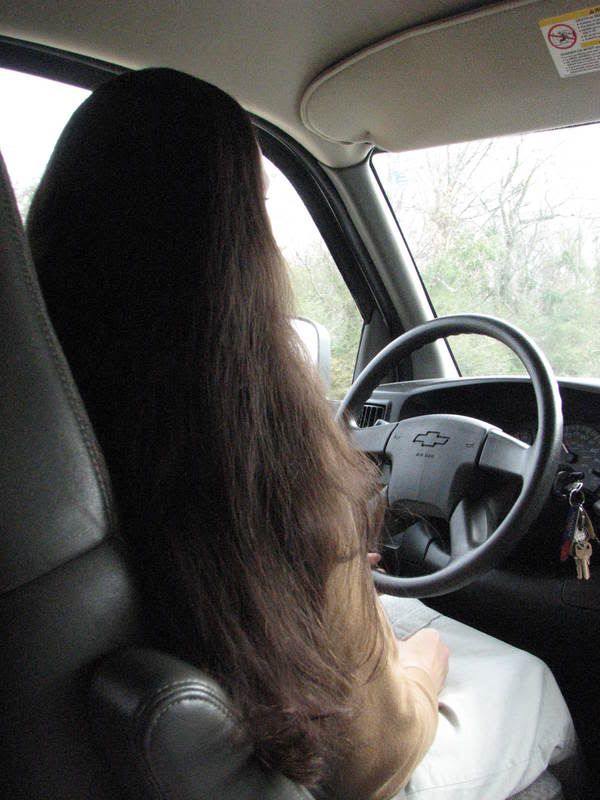 I was stressed and needed some retail therapy. So we go to Goodwill first. I spent a bit over $6 so that wasn't too bad. Brittany got a skirt, I got this cute little card holder, a ceramic light switch cover for the girls' new room, a sweet cloth doll for the girls and a carafe for my coffee.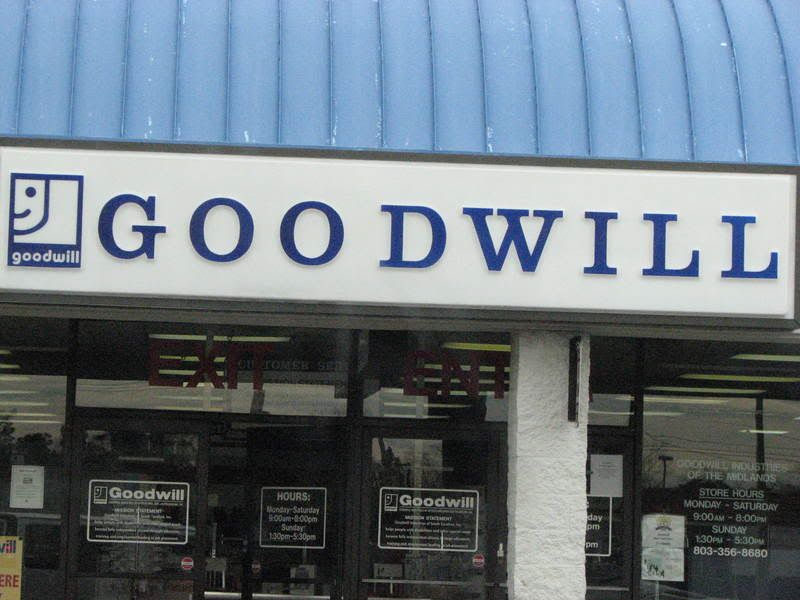 Alright, so by now it's lunchtime...and we're hungry. Mama's not very nice when she gets too hungry. We don't want mommy irritable while shopping. No way. So we got to Taco Smell....I mean Bell. After 7 burritos, cheese crunch and three drinks to split I had spent $13.63. That's not too bad for seven people I guess.
We were tempted....the damage could have been worse though.
Now off to Aldi. I am hoping that the shop today will be the only one for this store since it's at a long distance. I come out with everything except the black beans and canned chiles, of which I couldn't find. All of $65.16 was spent. I bought things I knew would be a good deal here for hopefully a month. What I got includes enough stuff to make 12 lunches or so. That's having 4 Ramen, 4 soup and crackers and 4 quesadillas.
Next stop was dear ole CVS. They have that special of buying $25 worth of Huggies products and get $5 ECB back. I also have $5 in Huggies products coupons and another coupon for $4 off a $20 purchase. This works great~! So for $12.64 I get a pack of Goodnights, Pullups and Huggies diapers. That's $4.21 per pack. Smmmooooooth~! I also got a pack of Stayfree thin liner thingies for free. But wait, I have a $1 coupon. So they ever so kindly pay me $1 for the pack. I had some extra care bucks so come out spending $1.44 and they give me $8.29 in ECB back.
Off to Food Lion we go. They have ground beef for .99/# and so I get almost 10# of this. I also pick up a head of cabbage, onions and B1G1 potatoes. I was almost a good girl but thought of how nice it'd be to have some guacamole. So I pick up two avacados and a guacamole packet. I leave with spending $17.81.
One last stop to Walgreens to make. They sent a $5 coupon off a purchase of $20 or more. I realllllllly wanted to have some Nexxus stuff for mine and Brittany's hair. It's a rebate deal this month. Oh goody, I am so glad! So I get both a shampoo and conditioner for $23.98 then minus the coupon it was $18.98. I get a $10 rebate for buying $20 or more in Nexxus products. So for $8.98 plus tax I get some good hair stuff.
Long shopping trip..... unhappy baby! It's alright baby, we are all done now and we can go home.
So here's the totals for the first trip.
Taco Bell $13.63
Aldi $65.16
CVS $ 1.44
Food Lion $17.81
Walgreens $10.31
Total for this week $108.35
I really wanted to come in at goal of $93.75 and we probably could have made it but Taco Bell was mighty tempting and my poor babies were hungry(okay, okay I was too!). Then the whole idea of guacamole danced in my head. What's a few avacados afterall? So I go over $14.60. NEVER FEAR! I have three more weeks to repent from my wild and uncontrollably outlandish spending. Go ahead and say it...."BAD GIRL!". So I have $281.25 for the rest of the shops trips(3). Stay tuned for the continuing saga of Susan's Thrillful Antics of Staying in Control of Her Inner Wild Side.....A.K.A. The Watson Budget.
I'll post our menu for this week on another post. I now have to go cook that ground beef I bought. Happy Saving!!!!
[
Comments - 6
]
Jan. 19, 2008 - Saturday/ Catchup Day
Today we are busily moving about trying to get things in good order again. I have been slow moving and very tired but at this VERY moment I have my energy up. I am about to go take my vitamin and drink my coffee. That should help. It's noon and I am just now getting some coffee. I told you I am slow moving!
Here's a list of things I must get done today:
Finish mopping the kitchen floor
fold all laundry (about 8 loads....hey, I said it was CATCHUP day, didn't I?)
Iron all clothes for church tomorrow. Have all sock, tights and shoes matched with outfits and ready to go.
Clean off computer desk
Bake and decorate Bethany's birthday cake. Her big 4th birthday is tomorrow. We will be very busy tomorrow with church and her birthday festivities. I have to figure out what to fix her. Our tradition is to have the birthday person to pick their favorite meal. Bethany really likes a lot so it was hard for her to choose. Anyway, I am hoping to do a Big Bird cake for her. I found a pan at GoodWill.
Hang some sheetrock .
Thata' do me for the day. For supper we're having pintos, fried potatoes, sausage and onion with cornbread. For lunch we are having yummy leftovers of pizza and breadsticks that Brittany graciously made for us. She's the breadstick champion. Think Chuck E. Cheese!
Have a blessed weekend in the Lord.
Hey, one more question. Is the sun ever going to shine again before the Lord comes? I am SO ready for some sunshine!
[
Comments - 4
]
Jan. 17, 2008 - This week....

We haven't had a chance to skip a beat really! I am so swamped with housework, cooking, teaching, hanging sheetrock, church, and just being a mom and wife. By the time the addition is somewhat done it will be time to plant a garden. Boy howdy, I guess it's no fun being bored, ay? I mean, why take the easy way, ugh? LOL
I do feel like to get the house completely settled, like we want it that it's gonna take a lllooonnnnggg time. In order to add on we had to take out to livingroom windows. So later we'll be hangind drywall in place of those windows, tearing down old wallpaper and painting. We will have wallpaper in the girls' old room to tear down and to paint in there. There's the boys' old room(new school room) to paint as well. That in addition to the addition. We did pick out our paint colors tonight~! I have an antique tan color for the livingroom, diningroom, hall/stairway, new bathroom, playroom and sewing nook. For the washroom and schoolroom I picked out a pretty yellow. Brittany finally settled on a green for the girls' room. I think that it's gonna be pretty. The boys' picked out a medium brown as I pursuaded them that a cowboy theme would be fun for their room. I was thinking of the neat ropes, handkerchiefs and cowboy themed stuff we could find easily. Well, we go to Walmart and lo and behold there was a bin of blankets on clearance for $3 each. Guess what was on some of those them there blankets? Yep. Cowboys. Yee-haw!!! God is good! We are gonna' have a shoot'em up time with this stuff!!!
School is coming slow but sure. I told the children that they better step up the beat or they'd be doing school all summer. We already need to start early due to taking off in September when the baby comes...Lord willing.
Okay, I am dawg tired and really must go to bed. Have a blessed rest of the week in the Lord!
[
Comments - 2
]

Jan. 17, 2008 - A Little Riddle....
Have do you have two different kinds of additons in your life in one year?
Are you ready??????????
~
~
~
~
~
~
~
~
~
~
~
~
~
~
Don't peak!!!!!!
~
~
~
~
~
~
~
~
~
Okay, ya' ready???
~
~
~
~
~
~
~
~
Well, you know we are adding on abou 1100sq. feet to our home. We are also adding a new family member to our flock in September, Lord willing! We are very excited with the two pending addition...the second being the most precious though!
[
Comments - 5
]

Jan. 3, 2008 - precious....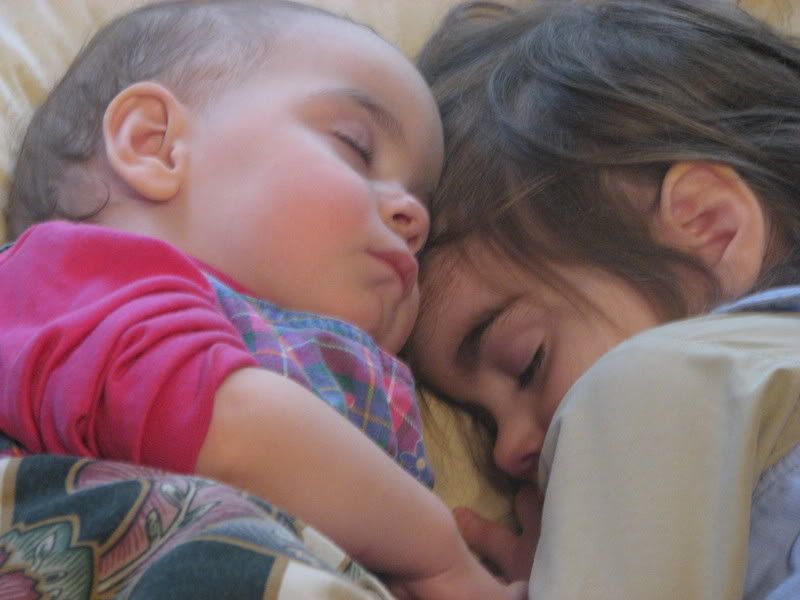 [
Comments - 5
]
Jan. 3, 2008 - Happy New Year!
I hope that everyone is having a great year so far. I personally hope that it's a lot better than last year. The Lord has truly blessed and for that I am thankful. I still want it even better than before. It seemed like last year we were sick a lot, of which is not the norm for us. And even now, there's sickness dancing around our church family. I just pray for it to go away! Yes, that's been my prayer a lot lately. Every time I have my night time prayers I pray for the Lord to please heal anything wrong with us and to keep us well! The Lord is truly THE MARVELOUS PHYSICIAN in more ways than we can think of.
I was thinking of the goals that we have set forth for the year. One being finishing the addition. Yes, that's a major goal and one that I will be very happy for. After that's done then we will be moving 95% of the house around. Wow, what a change this will be! This will include the opportunity to clean out any unneeded junk. Particularly with school papers and toys there will be a major job of organization. I am thankful for that opportunity! We are also praying for wisdom as to how to spread the money out to get everything done that we want done.
James and I also talked of hopefully building a small greenhouse for next winter. I have wanted one for a few years but I think James warmed up to the idea after servicing a customer's greenhouse business. The owners gave James some tomatoes from the business and they were SO GOOD and fresh. I have to say that maybe they were the best I've tasted. Ever! I told James that I thought it'd be nice to have a few tomato, cucumber and squash plants growing fresh right in our yard, to supply our family with some produce needs. This would be a great family project. James worked in greenhouses while in high school and shortly after. And anything we don't know of we can always research.
Another goal that I'd like to see is having Samuel reading right up to grade level. What a dream! Samuel is very bright but the reading is clicking rather slowly. These next few days I am going to pray over and think of a plan on filling in the gaps with his reading. He is doing better but I want best! James says he can see an improvement so that's good.
Besides all these goals, I think that Dalton is coming to an end with his piano lessons. He is simply not interested in this at all! This is sad for us as we really wanted to see him play and enjoy it but he really could care less. He keeps saying he wants to continue with the lessons and I keep saying that he needs to take interest and play sometimes. Then he never does. Even despite all the money we've poured into lessons, he shows no interest. I think my hardest thought is having to tell his teacher. She really enjoys coming here and teaching Dalton.
We will be starting back with our studies on Monday. Today and tomorrow I will spend on catching up with paperwork/ lesson plans. When not doing paperwork I'll be cleaning and doing wash. When not doing those things I'll be hanging sheetrock. When not doing those I'll be cooking. Will I get it all done and still live through it? We'll see. The good news is that I can do these with my dear children. I enjoy each and every one of them so much. I am so thankful for what the Lord has allowed me to have.
With the cold weather season upon us I am dreaming of warmer weather. I think that it's suppose to warm up next week some. I read in today's paper that there's a threat to the citrus crops in Florida. I was really hoping for another great year for them. So much is at stake with the temps being in the 20s and 10s. I pray they don't lose much and have to endour too much hardship.
I will have to post pics soon of the progress we've made with the addition! We've gotten the sheetrock finished in the boys' room and half done in the bathroom. If we can survive this part then I think I'll live. LOL James and I have our little system going while working together and we are getting settled into a rhythm. Despite that there are sometimes hindrances like when we were trying to maneuvor the big chunks of sheetrock into the small bathroom. Ha! that's "fun"! James wants as few seams as possible but I kept saying, "you've gotta cut it as it won't fit". Well, he got it to fit. Times like these is when you have to overcome, bite the bullet and claim victory over this monster of a job. Sometimes I want to sit and say, " I can't go any farther." But then again we can't stop now!
Have a great day in the Lord.
[
Comments - 1
]