Mar. 29, 2008 - Food These Last Days
From what we have left of this month's food I have been planning what to cook. This is always challenging when there's few to choose from. Well, I have a half head of cabbage, carrots and potatoes along with some frozen meatballs I made this past summer. I have a pound of ground beef(found by my dear son when he was looking for french fries), elbow macaroni, tomato paste, ramen, strawberries( a man James knows through work stopped by and gave us a huge basket full of them!), grits, cheese, eggs, and bread that I am making today. Also there are two cantelopes bought for next month but they are soft....have to be ate or thrown out. So we are using that before the first of the month. Out of this here is what I have planned to make.
Sunday: B:cinnamon bread with cream cheese icingL:meatball stew w/ cabbage, onion, carrots and potatoesS:leftovers and sandwiches snacks: canelope and strawberries
Monday:B:Cheese grits and eggsL:RamenS:Chili mac snacks:popcorn, cantelope and strawberries
I will have to post next month's menu later. I was thinking of doing Angel Food Ministries for the month of May, if the menu looks good. I'd be getting 6 boxes for us. With that, Friday night pizzas and the beef in the freezer hopefully it'd be enough for all our suppers and hopefully leftovers for lunch sometimes. Sometimes their menus are good and sometimes not so good.
[
Comments - 1
]
Mar. 28, 2008 - It's Friday!!!
I am glad to see Friday here. This is supposed to be James last workday of the week. He was on call for two Saturdays but one Saturday his coworker went on a call and we didn't know it. Well, we could have made plans if we had known he was working after all. The last weekend was to be his Saturday off but he gets a call anyway. A lady wanted her a/c looked at. Oh, come on, it didn't get past 70 that day. LOL So hopefully this is the weekend off.
Here's my to do list for the day(tentatively):
~ Four loads of wash(45min.-1 hour)
~Work in boys' room again(15 minutes)
~mop kitchen (5 minutes)
~ quick clean the kitchen(30 minutes)
~make tuna salad for lunch(10 minutes)
~ do light school with the children(1 1/2 hours of my time)
~ sand some walls on the other side(2 hours)
~ Make pizza for supper (30 minutes)
~ Have quiet time and rest(1 1/2hours)
Have a great day in the Lord and a marvelous weekend.
[
Comments - 1
]
Mar. 28, 2008 - Another Idea?
Okay, so today I was pondering over why the children have such a hard time using the same cup all day. I can't get over why we have so many cups to load in the DW every day. I kept thinking that there must be a better way. I was brainstorming over the Duggars' tips. We do what they do, by putting names on the cups. It's just not enough for us.
So, I was thinking of what to do. What I have decided is to MAYBE buy cups in three colors, eight each. Each day would be assigned a color AND we would have our names printed on the cups. So, if a red cup is out and it's green day, then someone gets busted. I don't know... I am still praying over it and thinking of what would be best. You know, if this would work, etc.
I even thought of getting disposable cups in three colors, putting them up in the top of our cabinets( all except for the 8). Once they are wore out just chunk them. Or if I don't want to wash them, then chunk them. I am known for washing and reusing disposable cups. Same with aluminun foil.
So, would you think this would work? Do you see any glitches in the idea?
[
Comments - 2
]
Mar. 28, 2008 - The Big Shop for Next Month

Today I was able to buy milk for this coming month. Kroger had it on sale for $2.99 a gallon. I bought 11 gallons. Hey, there was no limit! Ha! It's in the freezer now. I also bought some grapes at .99/lb. that was an in store special. I got orange juice at $2.99/gallon. Oh, they had cinnamon bread at .59/loaf(manager's special) and I got the three that was left for breakfasts/ snacks. I also used my $1 coupon and bought some Scott tissue (Cathy, you'd be proud!). Wonder how far I can stretch 12 double rolls of Scott 1000 sheets?
It looks like our cow won't be butchered for another little while so I was pushed to buy some more ground beef from the store. Make it hard on the ole' gal, how 'bout it? LOL I wanted a roast but this fellow picked up two roasts on quick sale right before my eyes. How dare he! LOL It's alright, just so long as we get our cow soon.
At Sam's I got a bunch of fruit for snacks and smoothies. I also got some cheddar cheese, bread flour(wowser, over $10/25#), peanut butter crackers, nacho cheese dip, salsa, 6# tortilla chips, a couple of big cans of fruit and pork and beans. It was a good trip.
Last we hit Aldi. This was for the usual fill in stuff such as margarine, canned tomatoes, canned soup, ramen, chicken nuggets....yada, yada.
I believe we have enough for all meals for April, except for salad fixings, yogurt starter( still have yet to try my second attempt at homemade yogurt, but I REALLY need to get this down pat. Any failproof recipes?), and maybe a little more fruit toward the end of the month. Oh and also a few dollars to cover any CVS deals. I have extra care bucks for a bunch but will need a few dollars per trip. I think I have over $40 left for April. I am SO thankful and glad to have that huge trip over for yet another month.
[
Comments - 2
]
Mar. 27, 2008 - Very Tiring, But Fulfilling
I trust that you all had a good day in the Lord! We had a very good day, albeit tiring. We woke up and ate a quick breakfast then after doing a wee bit of work in the boys' room, headed out to do most of next month's grocery shopping. We hit the bank, library and three stores today. This took a VERY long time. The children all cooperated so well and for that I am thankful. Sometimes I get tense keeping them in line but, praise God, they were so good.
Once getting home and unloading the groceries we rested a bit. I HAD to take a nap. It was after five but I could scarcely keep my eyes opened and took a 45 minutes nap while the children talked with Dad and watched The Munsters. We had checked it out at the library. Dumb, I know, but hey sometimes we need brainless humor to rest the mind.
After my nap it was time to fix supper. It is still a dig and use what's left for this month ordeal. There's only four more days left in this month. I did go over my budget by a little over $2. I will not complain but will be better prepared this month. Something came up and I needed to make an emergency run. I just learned to try and be better ready for those emergencies next time. So, our total for the month of March is $378. I am ready for the $350 challenge this month!
Tonight after supper, we did a very good cleanup of the living room, we swept and I mopped. Dalton loaded the DW. I went over to help James with drywall while Brittany watched Joy-Anna. As they watched an old Bob Hope and Lucille Ball movie, Jesse and Samuel folded clothes. Yes, teamwork. Oh, it feels so good!
Now the wee ones are snoozing and so it's time for the to do the same. I hope that you all have a very good day tomorrow!
Mar. 27, 2008 - Dear Anonymous
We all change in our bathrooms after bathing. I thought that this was pretty standard, to change in your bathroom after bathing. Is there any other way to bath, then to undress? Thanks for the question but, truly, it's alright to change in the bathroom. It's probably not as germ infested as you think it is. We don't keep "junk" in our bathroom either.
May the Lord be with you.
[
Comments - 9
]
Mar. 26, 2008 - Our Painted Washroom
Here's our BRIGHT, painted washroom. I can't wait to see it completed. Hopefully this won't be long. We are going to put the same tile in as the bathroom. We got this like for .58 per sq. ft.~! Besides it will be durable. Hopefully it won't be too hard on the knees, but oh for the sake of saving money, what we will do! Ha!
The washer and dryer goes straight ahead(see the plumbing hookup?). The small doorway to the left is our revolutionary idea. I LOVE it. That doorway leads from the bathroom cabinets(to be) beside the tub/shower!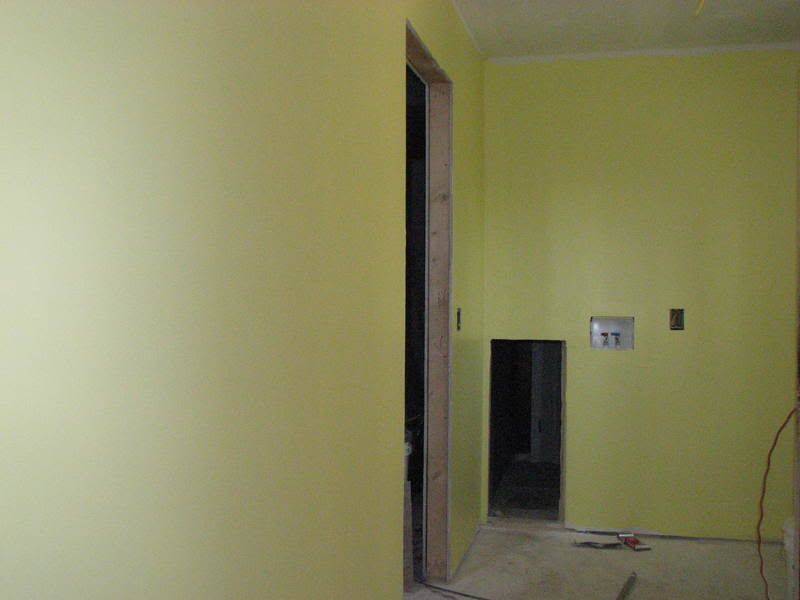 In the cabinet we plan on having one of those three bin, rolling laundry carts to store the clothes to be washed. The bathroom is their changing area. There's no changing permitted in the bedrooms at any time, unless otherwise said. Anyway, the cart will slide right up to beside the washer.
Once the clothes come out of the dryer or off the line. They are put on this side here below. This will be the family closet. On the end wall we are planning to put some cubby holes that are currently in the boys' room. This will be good for any folded items. Along the side walls we are going to have racks for hanging laundry. With all of the laundry being contained in one one, hopefully we will be able to cut down on mess.
Well, isn't the washroom.....bright? I like it and am thinking of the schoolroom being the same color.
[
Comments - 5
]
Mar. 26, 2008 - New Favorite Dressing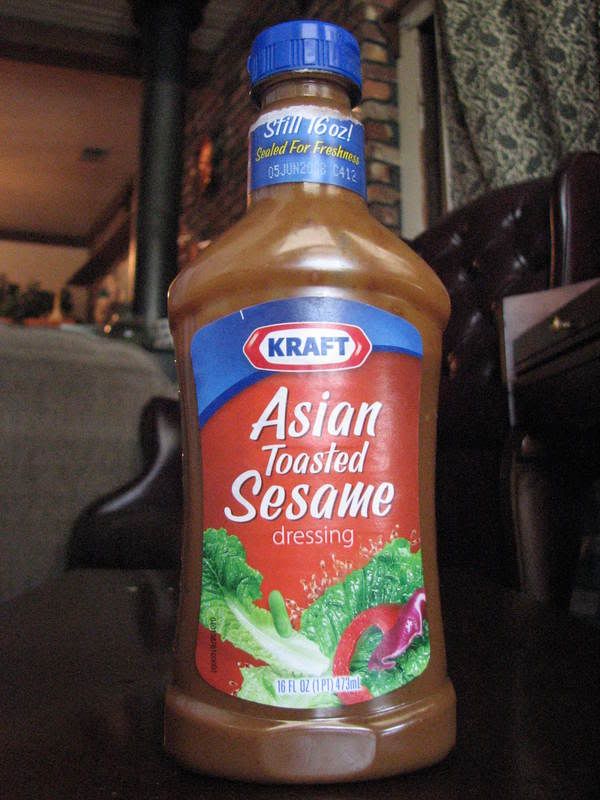 For all you salad loving, fellow fans. I wanted to share my new favorite dressing with you.
If you like chinese, hawaiian or any food of the like, you will probably like this! James and I both "ooohed and aaahed" over this flavor. Brittany is sticking with her Thousand Island. Blah, blah, blah.
[
Comments - 1
]
Mar. 25, 2008 - A Few Pics
Here's the bathroom with the floor finished and one of the vanities put in.
We will have another to the left of it (obviously). We got two of these vanities/sinks and faucets on Black Friday last year at Lowe's. We haven't seen a deal like it since so I think it was the right decision. I think that the black and white goes well with the red walls. The grout on the tile is actually black but we still have a lot of sheet rock dust being scattered all over.
Here are a set of new windows we had installed on the old side this past Saturday. We cannot believe the difference in the way they look, inside and out. James is installing vinyl siding to the whole house. So once done, our house will really look so much better.
Here's a set of the old windows.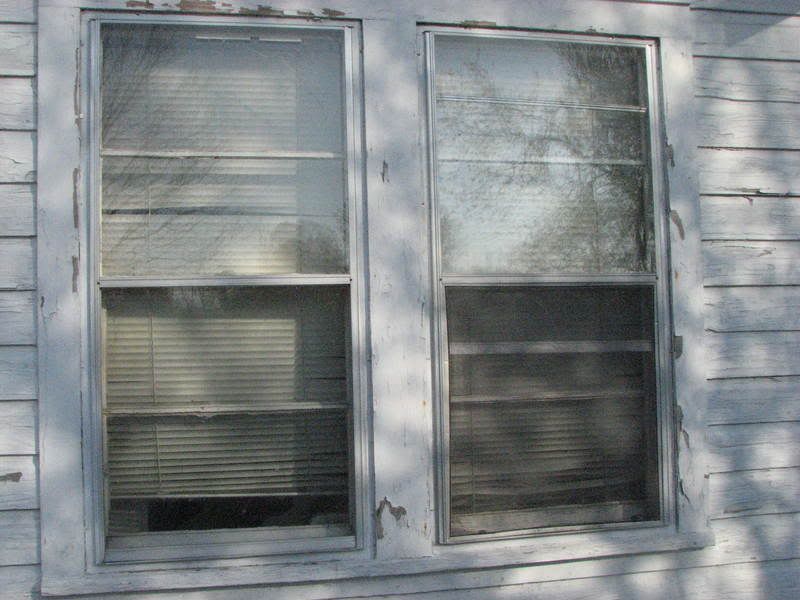 What a difference, ay? These windows are actually still here. We didn't have these replaced as we hope to put french doors in it's place sometime. This is where our future dining room will be. I wanted to put the before pic before the after pic(ugh, what did I say?) but it didn't work out.
We did have a pretty good day. We had to run to town to do some banking and drop off books at the library. I did stop at Food Lion and bought some more things for this coming month. I was thinking that I was going to have to use some chicken that I bought as a meal to a friend but I had plenty left here to use instead! Yay! So I am still safe... six days left. I got a good deal on cereal, ham, bananas, and chicken for next month. Hmmmm, one thing that I am upset over is James got word today that we have another 2-3 weeks on that beef to be ready. Patience is a virtue~ The bad thing is that I was tempted in buying some quick sale meat while at the store but I kept thinking of the beef coming any day now. It'll be okay anyway.
Okay, I think James is painting the washroom so I want to head over. The washroom will be a sunny yellow! I am excited.
[
Comments - 1
]
Mar. 24, 2008 - Life Miscellanies
Man, I don't know what life will be like without the distractions of home additioning but I am ready to find it. We are on the downward road toward home. I can just feel it! Before going over for some sanding, I wanted to post an entry. I am horrible with keeping up and for that, I am sorry! Don't give up on me and quit checking for updates. So for as long as the old computer will withstand, I hope to post more entries along with pictures.
School is coming along fine. I think Samuel is well on his way to reading very well. He's catching the groove of smooth, fluent reading. Dalton and Brittany are into their almost daily studies. Although, I do think they will be in a for a refreshing switch once we are done with construction. As then we can do a FULL day of school, every day! Yes! I can't wait. I think we will be doing school most of the summer as well. We will take off a week here and there and of course, with when the baby comes in September, Lord willing.
Our food budget is standing strong. I am in high hopes of making it for the month!~ We have only one more week left to shop from the kitchen. I did buy our sugar and tea to last for the rest of the month...and then some. Okay, it's story time! I have to tell you this. I did already start preshopping for next month. Don't worry, that food is stashed away so it won't be touched until precisely seven days from now. Here's my rationale. I went was scouring the sales ads for a good deal on tea. BiLo was that store. Aaahhh well then, I noticed some more goodies...goodies I could use next month. Goodies that would save MORE money buying now than later. I had already started a beginner's list of what we tentatively would need for next month. That is, if I could get the stuff for what I am willing to pay and if not, I'd switch around the menus. By buying some items yesterday that were on sale and with coupons, I saved at least $9 more. I got honey for .98 for 12oz., cream cheese frosting for .50(to put on cinnamon rolls in the mornings),tea for .93 for a box of 24(Tetley brand!), salad dressing at under $1.00 each(Kraft brand). Anyway, these things are sitting back in the pantry, waiting to be used later. Why wait and pay more later?
As for our food budget, we are sticking with $350 for next month. We will be gone for three days this month to a camp meeting. So this will lighten the food budget load a bit! The church feeds us well but if we get any snacks and eat a quick burger, this WILL NOT come out of the food budget. This is our vacation this year. I am looking forward to these three days. Anyway, I will try to journal our adventures in this department as well.
Speaking of camp meeting. James got called up for jury duty on April 21st. The same day camp meeting begins. We got the notice on Saturday. Never fear! James called them and explained that we were due to be out of down that week and could he pretty please have a change of date on serving for this civil duty. They said, "YES!". Thank you, LORD!
Our Bethany was very ill last night. With it being Easter, we didn't get a nap as normal. So Bethany feel asleep going back to evening worship. She woke up to go and started saying that her tummy hurt. She had ate a lot at dinner and topped it with two BIG pieces of cake. So I chalked it off as being a normal tummy ache. I had her to sit on the potty before and during church some and she lied on the pew the rest of the time. Well, I gave her a suppository, thinking she could be constipated. Nope. THEN she begins running a fever. So I give her Tylenol. She couldn't sleep she was in so much pain. At a certain point James got dressed to take her to the ER. This is not a light decision as those visits are VERY costly. As soon as he was about to scoop her up from the bed she said she didn't want to go and she felt better. I pushed on her tummy and she didn't wince as before. She did setting down finally about 2:30am. Praise God! She was as cool as a cucumber soon after. With periodic checks every little while I was at peace that she was alright. We thought she was having a problem with her appendix or something. She's fine today! It was very strange...maybe it was a quick virus....if there is such as thing as a 8-10 hour virus. She's sleeping now but needs to wake up to sleep tonight.
We got new windows on the old part of the house! I am glad to have this over with. I am hoping that this will conserve some energy and help save energy costs as well. Mr. Salesman said it would but Mr. Salesman told us a few little stories too. Let's hope for the best!
Okay, I think that's all the catching up I need to do. I am sorry for keeping you so long~ !
P.S. Thank you to the sweet lady who is sending us the goodies. They are coming in very handy and , yes, I do share with my Pastor's wife! I will pray for you and your needs.
Have a great evening!
[
Comments - 3
]
Mar. 20, 2008 - Daily Happenings
Today we are doing a lot of cleaning and tidying. Tomorrow we are having our old windows replaced of which I am very thankful and excited. The bad news is that the fellas will be about to see in each of our rooms....the jam packed rooms.....the rooms waiting to be moved over....with rubbermaid tubs, furniture stacked, winter and summer apparel midway organized and things we don't have any idea what to do with right now. So today we need to do some staging. I really shouldn't care but I do.
Besides cleaning what we can I need to go find some blouses for Brittany and Bethany. They need some for under their dresses and other blouses. Boy howdy, I can't wait to get that sewing room! I am tired of finding descent clothing for the girls. This isn't a pleasant job.
Our budgetting in the grocery department is holding steady! Glory! We were able to eat out last night at Chic-Fil-A. Our electric bill came in under budget so we used those funds to take a break from the stove. So the previously planned spaghetti will be ate tonight.
Well, I'll share today's "to do" list for the day and stop talking:
~KP duty. It's my turn today(1 hour)
~3 loads of wash....of which I get to hang out on the line, since the sun's shining today. Yay!
~ One hour in each bedroom to clean up (3 hours)
~Nap (1 hour)
~ Shop for blouses ( 1hour)
~ Tidy rest of home (30. min)
~ sand wall in addition and put second coat of mud (1hour)
~ Listen to Samuel read and read to the others
~ delegate whatever I can all day
This is enough for me~!
Have a blessed day in the Lord.
[
Comments - 1
]
Mar. 19, 2008 - A Wonderful Giveaway!!!
Rosetta Stone has been the #1 foreign language curriculum among homeschoolers for a while -- next week they are unleashing a brand new curriculum, and you can WIN the *all new* Rosetta Stone Homeschool Version 3… FOR FREE!
This is a $219 program (and believe me it's worth every penny!) and the winner gets to pick from any of these 14 languages: Spanish (Spain or Latin America), English (American or British), Arabic, Chinese, Japanese, French, German, Italian, Portuguese, Irish, Hebrew, or Russian.
This will also include a headset with microphone, and students will participate in lifelike conversations and actually produce language to advance through the program. Rosetta Stone still incorporates listening, reading and writing as well, in addition to speaking. Many homeschoolers requested grammar and vocabulary exercises, and with Rosetta Stone Homeschool Version 3, they're included! For parents, the new Parent Administrative Tools are integrated into the program and allow parents to easily enroll students in any of 12 predetermined lesson plans, monitor student progress, and view and print reports.
To win this most excellent program -- in the language of your choice -- copy these (blue) paragraphs and post it in (or as) your next blog post -- then to enter the contest, go to the original contest page
HERE
:
http://www.homeschoolblogger.com/JenIG/501132/
and leave a comment with the link showing where you blogged about it. And please make sure the link works to get back to the original contest page when you post it. And good luck! The winner will be picked randomly on March 26, and will be notified thru the link they left to their blog pg. And if you have more than one blog, you can post them and enter those separately for more chances to win. Yay for free stuff!
Mar. 18, 2008 - Wardrobe Time
It's that time again, to go through the children's clothes for the next season. I have a love/hate relationship in this job. First of all, I hate packing away clothes. Secondly, in the process of packing out of season clothing comes the task of deciding what's still usable, what will still fit and how to pack it. We have the three boys to manage clothing for. So this year I am packing all of the long-sleeved shirts I feel sure they will fit into next winter in the same two containers. I will do the same with any excess jeans that they may have.
So, we will be moving things over to the new side soon. Well, soon as in one day...maybe in a month or two...or before the baby gets here in September....or before they need their fall things again??
I am being very tight on what they are keeping out for this season. Who needs 20 everyday shirts and pants? Who needs old jumpers with holes and stains when they have perfectly fine clothes that are suitable and stainless? So, the criteria I have for the boys are; five sets of everyday clothes, 3-5 sets of church clothes--not including their suit. I am going to stash a small box of extra shirts and pants for emergencies but I will have easy access to the attic now so it won't be too hard to get to.
For the girls, I am still working on what they will have this summer. I did go to Target with them last night and bought Bethany and Brittany some duds. Brittany got a very pretty outfit. She found ONE style of skirts that we felt comfortable with. All the others were too short or....too something. LOL We got Bethany two everyday/ Wednesday night outfits and two church dresses. We will have to get blouses to go under at least three of the four dresses we got for her. But, I didn't want to pay $8-$9 for a t-shirt at Target when I can get them for $3-$4 at Walmart or Kmart. Hopefully we can anyway.
So the news is that everyone has enough to survive a while anyway. Oh, and Bethany could really care less. All she wants is her EVERYDAY skirt. It's the skirt that she's refers to as the one, "Mrs. April gave me". Every morning she awakes and asks if, "the skirt Mrs. April gave me clean? " I must find another one....or two like these before she drives me wacky. I don't know if this skirt will make it to her younger sister. LOL
So, this is the every continuing story of our wardrobe saga. I mean that this time I WILL keep the duds to the minimal. I shant clutter the family closet. Ha!
[
Comments - 1
]
Mar. 14, 2008 - Budget Update
To make the $375/month budget, we have precisely $30.70 left for the month along with some Extra Care Bucks from CVS and Rebate Rewards from Walgreen's. I think we are going to do very well this month!
I also ordered some washable "goodnites'' for the bedwetters and plan on using more cloth diapers again. So this will help. Also, we are still hoping to get that beef for the freezer this month. So next month, if all goes well I am planning on setting our grocery budget to an ultimate $350!! I think we can do it.
How's everyone's budgets coming along?
[
Comments - 3
]

Mar. 14, 2008 - Homeschool Mainstays
I have been thinking about this a lot lately. We are in our tenth year of homeschooling(being that I started teaching Brittany at age four out of excitement and eagerness). Many types of curricula have come and gone. Some have stayed from the start. Of course, every family is different and what works for one doesn't always work for another. I thought that it would be fun to share what we have tried and have decided to keep in our list of favorites. Here's some of mine. I am afraid that I will forget something so will probably add more later. Reading: I like the Pathway Readers but we use Christian Light for phonics. I also like Abeka readers. Grammar: Easy GrammarWriting: Institute for Excellence in WritingSpelling: I am going out on a limb here as I just got this curriculum. But I am going to say Spelling Power. I wanted to get this years ago and should have. I finally did this year. I feel that it's a complete, research tested curriculum. History: We do a lot of unit studies and reading historical fiction but our favorite organized curriculum is Mystery of History. We also like Beautiful Feet's Early American History. Other than this we used the workbook approach but found this way rather dry and boring for us. For the boys this year I am going to use Around the World in 180 Days. This is a multigrade guide to study the geography, history, culture and current events of all seven continents. Science: For elemenary we also like unit studies but I like The Scientist's ApprenticeI(Bright Ideas Press). For this coming year, to use with my boys I purchased Christian Kids Explore Biology(Stephanie L. Redmond). This reminds me a lot of The Scientist's Apprentice. I think we will enjoy it. Physical Education: This is a jewel that I found this year and I can't wait to implement it. I have to say, first, that we were blessed to be in a homeschool co-op for about 5-6 years. During that time we had a phys. ed. teacher who had her degree from a Christian college in that area. I bought this book under the intention to use it only with Brittany in order for her to earn her PE credit. This reminds me so much of what we had in co op. This book will be used with the whole family! It reminds me so much of the games and skills that were taught in co op! This is written by a homeschool dad of nine, who is a doctor in Phys. Ed. Awesome, awesome, awesome! This book is for all ages and is chock full of fun games for all ages--indoors or outdoors. It also teaches those important skills needed to play many sports. The book is Homeschool Family Fitness by Bruce Whitney, Ph.D. Math: We are sticking with Christian Light from here on out, as far as I can see. We have used it through all the grades, with the children combined and I feel that it's a steady, complete curriculum. Home Economics: Christian Light for high school credit. For elementary HE we like the cute books put out by Pearables. I can't think of a think that we don't like of their's. I know that I am forgetting something but this is the brunt of it. What about y'all?