Feb. 26, 2008 - Green Beans
Meleesa asked how to make green beans with meat. It's quite easy to do!
You can use any type of grease or a piece of pork. This time I used ham bits. You could use ham drippings, bacon, fatback, and I have even used bacon bits that you use on top of salads. It works and cuts back on the fat! Just dump your beans in the pot and set them to simmer. Then drop your fat, pork, whatever in. Oh, in a pinch I have used shortening or oil as well! Anyway, just let it simmer for a while....I don't know how long...maybe 20 minutes? Make sure and add some salt. Actually looks can be diceiving as these beans were not salted well enough. We had to add more at the table, which is not as good as adding it right the first time.
I use the same method for pintos or any dried beans as well. It's might tasty and after eating them this way, bland beans will be out the door!
Enjoy!
[
Comments - 2
]
Feb. 25, 2008 - Yard sale finds...
I found these two plant holders at a yard sale for $5 each. I thought they would look good on the nice new front porch we have. There were two of them there.
[
Comments - 4
]
Feb. 25, 2008 - Scalloped potatoes..
(Sorry about these pictures being a little dark!)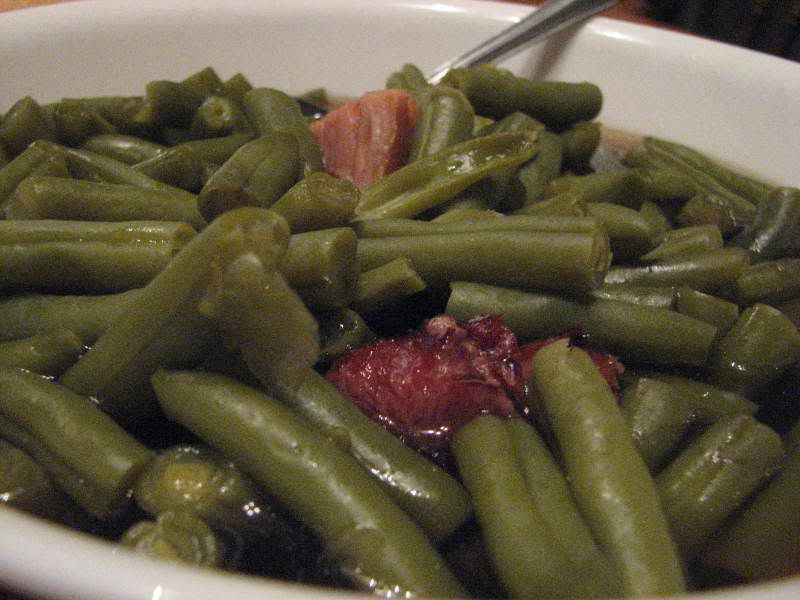 [
Comments - 3
]
Feb. 20, 2008 - Good Day!
I am trusting that each of you are having a good week. Our's is going along fairly well. James' work has picked up a tad...it's not what they'd like but better anyway. We are scooting along, getting our many tasks done. We've already had our night of midweek worship. We had that last night instead of tonight.
Today was very busy. We got in quite a bit of school and chores. I was able to make bread and laundry soap in addition to three meals. Seeing progress being made makes for a joyful heart. I also reclipped my coupons and put them in a new box. My mom gave it to me yesterday. It's a cute little box! The only thing is that the coupons have to be clipped rather tight and packed in neatly for them all to fit. So this is done for now anyway. It seems that I was in the kitchen moreso today than most. With a large, active family, it seems this is the place to be! I haven't had a real rest today so I will be ready for slumber tonight. I am hoping to eek out enough energy to do a bit of mudding tonight. I will have to squeeze that energy from the very depths of me. Sometimes I see progress and sometimes I wonder if we'll EVER be done. I am very impatient. I need to finalize my grocery needs tonight as well.
Tomorrow I plan on us getting a little bit of school in, start some 15 bean soup in the crockpot and then go grocery shopping. I am afraid that we might be out at lunchtime so at the first stores I might pick up snacks to serve as lunch. I'll be sure to pack some tea and ice to go as well. Once the shopping is done we will all be very tired. I think we'll be ready to nap by then! I am praying for some super deals tomorrow! I think I will work on haircuts for the guys and a trim for me and Bethany tomorrow. We are overdue on this. I tell ya', the list keeps getting longer and longer! I'll stop there!
I hope you guys have a blessed evening. Hey, try to catch the lunar eclipse tonight! That's another thing we'll be enjoying as well. I don't know how they photograph but I am certain that our oldest will have her camera ready!
[
Comments - 2
]

Feb. 18, 2008 - Happy Monday!
It seems that life gets busier all the time. I am hoping for a slower day on Wednesday. Today we had a saleman come out and give us a bid on replacement windows for the old part of the home. While this will hold a hefty fee, they are covered for a lifetime(as long as we own the home) and will drastically reduce our electric bill. As an example, if our average electric bill is $200, according to the salesman, our bill will be reduced by $80, maybe even more! He said that by saying that it would be reduced by $70 per month would be a very conservative estimate. That sounds sweet to my ears! He said that he wouldn't be surprised if the bill for the whole "new home" would be the same as the old part, if not lower. I am praying for lower, especially with the energy efficient, on demand gas water heater we will be putting in. In about a week a man will come out and measure and in about a month or so the windows can be installed. This is exciting! It would be superb to be in the new part by then....but that's pushing it.
Another bonus is that the fellow is Christian! What a wonderful answer to prayer. Before this man and another man who came to service our treadmill came I prayed that either they would be receptive to His Light through us or that they would be saved. Both claim to be saved and I wouldn't doubt it! This is always so good, to see others wanting to serve and who you can converse with in ease. It was nice having both these service people in our home in the past few weeks.
After the saleman left we headed for Home Depot to pick up some doors on sale along with new knobs. They had a mega-sale on the doors---prehung at $59 a pop! So now I really thing we have gotten everything but a few more lights. James said we could have gotten them tonight but I was ready for supper.
Speaking of food, I have found a new type of weapon to fight the grocery budget battle. That weapon is called Kroger! I am amazed at some of their sales and their manager's specials. I am really gun- ho on this wagon now. Onward, march to the battle grounds! Yeah! Beween Aldi, CVS, Kroger and other general grocery sales ads I think we can really beat this thing, and eat very well. Glory, glory!
I think that I have all of Brittany's first year of high school curriculum planned out. I am very glad to have this settled and we are excited to approach these special years together. I was very anxious before but now feel pretty secure and at ease about it. Now I need to plan what I need to order for the other four that I plan on teaching next year. Well, our four year old doesn't neccessarily have to be officially taught yet but I have an inkling that she might can learn to read with our 6YO. I'd love that! Besides, why not utilize that new schoolroom to it's fullest potential?
Tomorrow will prove to be another busy day of piano lessons and we will have church tomorrow night, instead of the usual Wednesday. Also, tomorrow is "Master Bath" day....the day to deep clean the master bath.
Oh yeah, I have changed the color of the bathroom to RED. We visited the nursing home ministry and their main bathroom was red and it was accented with black....so pretty! Our bathroom vanities are black along with the mirrors and shelves. I fell in love with that bathroom and changed my mind instantly. I already had the red paint, ironically. Yeah, I can dig it!
Okay, so time to get back out to the addition and work a little bit over there. Hopefully we can finish painting the boys' room tonight.....or at least finish the first coat of paint...and maybe hang the door? Yee-haw!!!!!!!!!!
Feb. 15, 2008 - So Much to Do...Little Time
This week has been extra busy but very worth it all. We have been blessed to have Bro. Jimmy Rose and his wife with us this week. He will be with us again tonight and then on Sunday. For us at Joel, it is missions' week. Brother Rose is VERY wise and has so much knowledge on scriptures. He applies it very well in context and to our daily lives.
I am debating on whether to tackle school today or not. Honestly, I am thinking of allowing the children to just do their chores and play. That way I can just do chores. Ha! As always the wash is overflowing. I'd really like to be caught up. Oh, and here's my way of thinking. It's suppose to be over 65º today but colder next week. Next weeks seems better to do school. Well.....we'll still be reading today on any account.
It's 8:30 so I better get rolling. I have been slow moving this past month and I am hoping that in precisely 2 1/2 weeks I will feel more energy. That's when I will be out of the first trimester.
Have a great day in the Lord!
[
Comments - 1
]
Feb. 13, 2008 - Happy Wednesday!
I hope that you all are having a great week so far! Our's is going very well. I can't complain. Okay, my one complaint is that there aren't any good sales going on with the grocery stores. Everyone has their minds set on Valentine's Day so they have steak and shrimp on sale. We cannot live off of steak and shrimp, guys! So I will be praying over this and really studying what to buy for this coming week. I also still need to post a few reciepts and see what's left for the month to spend.
Hopefully we will finally start some painting this Saturday! I am really very excited about this! The boys' room will be first. Dalton chose a "western brown" for their room. We are going with a cowboy theme in their room. I need a set of bull horns to mount on the wall. How cool would that be? Anyway, so we are still mudding the drywall and hopefully this will close the chapter to the drywalling. I think James is going to help some friends who are also adding on with their drywall. It's always good to be helpful to others and we would have wanted the same thing for us. People are always busy though and we understand that.
Okay, on today's agenda....we just got back from having our taxes worked up. I am glad that this is over and done with. I always dread doing this. We do get a refund but still, it's nerve wrecking to me! In a bit we are about to start school for the day. We are in Exodus right now. I hope for us to get two chapters read. Once we get to the Passover we will slow down and study on this. Also we are going to study the character of Moses, and the atmosphere. For today we will also have language arts, math, reading and Brittany needs to start a science experiment out of her Apologia science.
As for chores, I need to clean my room. It's so bad for real! I will need to do some laundry and just tidy the rest of the house. Tonight we have church so we will be getting ready for that. That takes while....probably about 1 1/2 hours from start to finish.....more or less. Brittany says, "more, not less!". LOL For supper we are having easy Campbell's Chunky soup that was on sale last week.
Oh, our dentist appointment was FABULOUS. We had NO CAVITIES! I am so happy. So we all got ice cream and cookies last night. Ha! This really made my day. When I got there the receptionist said, "we were so worried about you, we are so glad to see you!". I asked why and she said they had us down for 2:50 but my appt. card said had 3:30 and when they called to confirm last week they said "3:30". The receptionist was so glad that I kept my card and she went around showing that we were "right" and they were "wrong". I just say it was a simple mistake! I am just glad that it wasn't a time way off from what we had and that we were not the one who made the mistake. LOL
Okay, I am off to do lunch and get started with our work.....a lot of work to do indeed! Have a blessed day today.
[
Comments - 3
]
Feb. 11, 2008 - Edit to Super Southwestern Beefbake

I wanted to post here that I made a small change to the Super Southwestern Beefbake recipe. I just added that the tortillas are torn into small pieces. They are not left whole.
[
Comments - 2
]
Feb. 11, 2008 - Busy Week Ahead
This week is going to be very, over the top, busy. I am trying to gear up mentally. Prayerfully we are having school the "new usual" Monday, Wednesday and Friday. Today after school and lunch, James wants the boys to go pick up some construction piles and load into the trailer to haul off when he gets home from work. Brittany has to clean the main bathroom. I have a bunch of laundry to wash again today. Also, I hope to get all of the children's clothes picked out for later in the week when we have a Mission's Conference at church. I will also be on guard for a call from a friend going to the doctor today with some problems she's having. Please pray for my friend to find the answers and pray that they can be easily fixed. I think I will fix a new all in one dish recipe tonight that was in last Sunday's newspaper.
Tomorrow we have a piano lesson right before lunch. We will have lunch then the four oldest children are due to the dentist later in the afternoon. I am strongly praying for NO CAVITIES! Then after the dentist we will come back home and work on the addition...more mudding and taping. Does it ever end? Well, I do look back and there would have been no way to do this unless we did it ourselves. So, I am thankful we can at least do it this way than not at all. I *think* we are on the downhill stretch of this project.
Wednesday, Thursday and Friday we have the Mission's Conference at church each night. During the day we will be doing school or construction. On Saturday we don't have the conference but it's final meeting will be on Sunday. We host the guest preacher (Bro. Jimmy Rose) and wife that day . I still don't know what I'm going to fix just yet. We meet in the fellowship hall to eat with them and our Pastor and family. Hopefully what to cook will hit me soon. Ha!
So with all this going on, James mentions going to the Low Country Fellowship in Orangeburg today, pending if he got off. Ha! I said, "Oh that'd be GREAT for y'all to go", meaning him and a few of the children. He said, "No, I meant for all us to go". "Ummmm, hooooonnnnnnneeeeeey, no I REALLY need to stay home as this week's just going to be insanely busy. I cannot, cannot, cannot fit another thing in or I might feel tempted to drop the ball all together. Oh yeah, we aren't allowed to do that are we? LOL
I did make a few purchases this past weekend. I will have to gather the reciepts and post on that later. Please have a great week and may we all stay focused on what is truly the important tasks and not grow weary.
Feb. 9, 2008 - Second Shopping Trip of February
Hey Guys! I hope you all are having fun with your budgets. After being finally geared with my coupons and list...which were both lost, I was ready to head to the store. This time I take the four year old and the ten year old. James stays home with the rest of the family and does construction. First we head to CVS. I get free Fructis(sp?) conditioner, free Maybelline eye shadow, 2 CVS skin care products and two bags of M&Ms(after care bucks and coupon they were .50 for each big bag!). So the bulk of my money spent was for the two skin care products. For a few years I have been using $1 moisturizer from Dollar General. I wanted something nice and since I got $5 in ECB back I thought, "Why not?". So, I spent out of pocket $26.19 and got but after the ECB recieved it would be $9.71. Yay, yay, and double yay! Next we had next door to Food Lion. I get really bummed because I can't find my coupons for the particular store. But don't dispair.....right at the end of the trip I find them hidden behind the "A-B" section in my coupon envelope. Glory to God! So I was now able to buy Fruity Pebbles(13 oz.) for .90 a box and I got 8 boxes! Yes, it's preservative and sugar laden but I am preggo and sick. So shoot me. LOL I got Chunky Campbells soup after coupons for $1.00 each. This will be for a main meal...maybe twice? I scan up and down the aisles for deals, but there are none that are earth shattering. I did get some thin steaks and beef stew meat reduced as the date runs out today. I bought some beans and rice, bananas, apples, oranges, gelatin, canned pineapple, sugar, flour, stir fry veggies, teriaki sauce(w/ coupon), and deli ham. Finally I go for the B1G1 fish sticks. I notice that they have Gorton's fish sticks in the box B1G1 but also in the bag. I choose the bag as there are more in the bag for the same price. It must be the packaging? So I leave there with spending $65.63. At last I go to Walgreens. I had a coupon for dental floss at .99 each, limit 3. So I get three of those. My 4year old loves to use it for art projects and so this always turns up missing. . I have to hide it in order to use it for it's original purpose. Okay, so I see this cool flouride rinse for the children that has a light up top. I remember promising to find a replacement for the other stuff they took of the market a while back. Remember when they did that? I had JUST bought that bottle and it was used once. So I go ahead and get this for only $1.59! It was on sale and I thought I was to pay much more. Cool........They also had their milk on sale for $3.59 a gallon(the main reason for stopping in) so I end up with only 2 gallons due to their limit. Then I remember TRASH BAGS. We would not be complete without trash bags as the very last one is in the can right now and reeling over with icky stuff. Did I mention that the smell of trash or old food make me very, very ill? blah. Anyway, so James likes the name brand as the off brand tears....except for Walmart bags....he doesn't mind those. Well, so I have to buy a box for $5.50! It does have 80 bags in it so hopefully it'll last almost two months. I leave there with spending $17.24. Okay a few days ago we did a Walmart trip. I went ahead and picked up some things I knew would be at a better price there than elsewhere this week. That trip was the kicker of the budget. That came to $34.16. So the rundown for this week is:CVS $26.19 OOPFood Lion $65.63Walgreens $17.24Walmart $34.16This week's total : $143.22 (EEEEEEEEEEEKKKKKKKKKKKKK!!!!!)I hope I can stretch some of the goods over the next two weeks.... Week 1 $108.35Week 2 $143.22Left for the month: $123.43 I am not giving up. I still think I can make it ....for real. I know, you're thinking I won't.....I think I will. LOL Have a blessed time shopping and I pray that the Lord leads us all to those great deals.
Feb. 7, 2008 - Great Checkup/ No Shopping...
The OB visit went SO WELL! I don't think it could have went any better. I am just so happy!
First thing, when I get there the receptionist wanted to see my insurance card. So, I ask if she'd recieved info on how much I will owe. She said that, yes, actually she did and that we will pay the deductable to the hospital and owe them 20% of the global fee.... $380! Y'all, I am thrilled. I asked if she was sure and she said that she asked the insurance lady the same thing and that the insurance lady was sure, therefore she was sure. Awwww Dude! I am so excited about that.
Then it was time for the usual urine sample, weigh in, blood pressure and having blood taken. Urine sample was easy. Weigh in was pretty painless. Blood pressure was easy. Then "my" nurse says that she's training another lady to take over her job while she's out having her baby. She wanted to know if I minded being a guinea pig and let the other nurse stick me. Okay, I am a good sport, right? I ask if I can psych her out and act as if I am going to pass out. She says the new chic is a bit nervous and might pass out herself. Ha! Okay, so she needs to get 3 vials of blood. She finds the vein that's best and does a GREAT job of sticking me. I start joking that I am getting dizzy and might need to put my head in between my knees ( hilarious sight to think about) and the new nurse starts wigging out. She gets the first vial but MOVED THE NEEDLE in my arm and couldn't get the second vial. I started saying that I demanded a refund and that I was going to charge THEM for the inconvienance.
Okay so she sticks me again in the other arm and gets the second vial but moves the needle again and blood starts squirting everywhere. I yell, "Awwww, DUDE, YOU'VE REALLY DONE IT NOW!!!" She gets all nervous and lets the regular nurse stick me the third time to get the third vial. It was SO funny. I told the new nurse that she did a GREAT job in sticking me but she just needs to practice the part of switching vials. I told her she could practice on me anytime....it'll be okay. I had the greatest time in cutting up with them!
So, the next fun part is the ultrasound! Yeah! I got to see the wee one and I am just SO THRILLED! This makes it all real to me. I even got a picture. Yes, there is only one. The Dr. did get my hopes up in saying that there has been this new trend of a lot of twins lately....but not for me. I am happy with just the one. I probably couldn't handle two anyway. LOL
So, I go to the bank and deposit some checks and then decide to go to Goodwill. I bought a cute little winter porch decoration($1.25), a recliner($40!!), a HUGE painting($35) and two sock monkey kits($1.25 each) so that Brittany could try making sock monkeys....can we say, "Retro 70s"? Brittany says, " What in the world is a sock monkey?" So now she can make one and I might make the other. LOL I also got this cute little wood piggy that's cutsie country.
Then I discover that I don't have my list or coupons for grocery shopping. Under NO circumstances was this going to work~! So I decide to come home and will go out a bit later to do our weekly shopping.
Dana, It's so good to hear from you! What a GREAT deal on the cheese. I would be buying it up too! Yes, I do some stocking sometimes but just on the best deals and for stuff we use regularly. Just so long as I am not breaking the budget. Like this month when I did my Aldi shop I actually bought enough lunches for 12 meals. That's 4 Ramen, 4 quesadillas and 4 soup. With leftovers I have about half a month's worth of lunches planned and bought. So.....in a sense that is buying ahead. The money I save from the for the rest of the month I can put toward stocking other deals. I also try to keep in mind sometimes that these deals will roll around again and I do see a pattern on certain things so can get the feel of when the sale will hit again.
I will try and post that Southwestern Beefbake really soon. Right now my eyes are heavy. Gotta move!
[
Comments - 3
]
Feb. 6, 2008 - Busy Thursday
Tomorrow will be a very full day! I am so excited to go to the Dr. tomorrow for the first prenatal for our new baby! They usually do an ultrasound and I hope that tomorrow is no different. My tummy definitely has a "bump" in it. Each time I grow quicker and quicker. The idea of twins did pop in my head but, really, there are two sets in our small church congregation. I figure the odds would be very low for that this time. It's just passed through my head a few times. So, if it was so I want to say that I guessed it was. If not, then I am almost always wrong. Same with the gender. I am almost always wrong with that too.
After the doctor's appt., I have our weekly grocery shopping to do. My plans are to hit CVS, Walgreen's and Food Lion. I was disappointed in Bi-Lo's sales this week. I have only one item that would make it worthy to stop...but one item....breadsticks...I don't know. If I knew for sure they'd ring up free then I'd probably go. Although my oldest makes the BEST breaksticks....albeit she uses half a can of graded parmesan cheese....they are good. LOL Anyway, I hit Walmart last night and need to post that total as well. I am still striving for that ultimate goal of $375!
After I get home from the shopping trip and Dr. visit, I need to work on the usual kitchen, laundry and bedrooms. I also hope to get some more mudding and taping done to the drywall. Also, I hope to fix a cabbage casserole.
Oh yeah, I will post the Southwestern Beefbake if you'd like. Someone asked if it a taco type dish...sorta is. It has salsa, corn, sour cream, black beans, ground beef, and tortillas. I love it!
[
Comments - 3
]
Feb. 6, 2008 - Thank You...
I am not sure if this belongs on here or not. It seems I have a mystery friend who so sweetly sent me some coupons through the mail, to the church. When I got to the church tonight, our Pastor's wife hands we an envelope. Then she and I both thought of who could have sent them. We figured it had to be someone who reads my blog. If this is the case, I want to tell you, "THANK YOU SO MUCH". I am very touched by your kindness and I am excited to use them as well. God bless you!
Feb. 1, 2008 - School /Construction....
Our life has been a total whirlwind in the past while. I am coming to a conclusion that I am gonna have to quite wigging out so much. I cannot change what's uncontrollable with the addition getting finished. For a good while I had been having it hard, trying to figure out how to be on the new side, helping with the addition AND on the old side doing housework and school. I have decided that I can't do both at once. The housework is getting a wee bit better now but had been suffering for a while. That's depressing. So, Monday night I had estimated the addition taking until the beginning of March. I had passed the idea on to James of not doing school at all until it's done. He said that this sounded fine to him. We are pretty far along in our studies and we'd have a break. Besides we'd be in our new, yellow school room with just "thinking stuff" surrounding us instead of lunch dishes and other non learning stuff. The idea seemed grand until Tuesday.
Tuesday James says that since we have some equity money left over that he wanted to go ahead and put a big deck onto the back of the house. I am excited about this as well. This will connect our two back doors and we'll have picnic tables on the deck to eat on sometimes. We can grill out there and just hangout. Also, while doing laundry or cooking the wee ones can play on the deck and I can see them through the door. The glitch is that this will add another few extra weeks onto our date for final inspection.
So now, I am working a schedule of doing school Monday, Wednesday and Friday with doing a wee bit of construction on Mondays and Fridays. Then on Tuesdays and Thursdays I will be working on the new side during school time. I hope this will work for the remainder of the time we'll be finishing up the new side.
We are almost finished with hanging sheetrock. I'd say we have maybe only 20 sheets to go! I have been mudding the screw holes but I am a horrible seam taper. I told James that I just can't do the seams. I might give it one more shot but my seams come out all bubbly. Ugh. I am ready to paint now! I am hoping in another week or so we can begin this. Then will come the floors, stair treads, trim work, installing the bathroom cabinets, finishing the plumbing, putting in the lighting fixtures, lights switches and receptacles. Then there's the back deck.
Oh, we are also finally putting in the porch columns and railing. I think that it will make the house very cute. If I can I want to get a few pieces of gingerbread for the front. That can come later.
So anyway, this is the long, boring story of what's going on in our lives. And today is Friday....school day.
[
Comments - 4
]