Apr. 13, 2007 - Pics

People have said that they cannot see pictures on my blog. Let's see if this works.
Here is our garden...
green bean...
bell pepper...
Sunflower....
Tomato...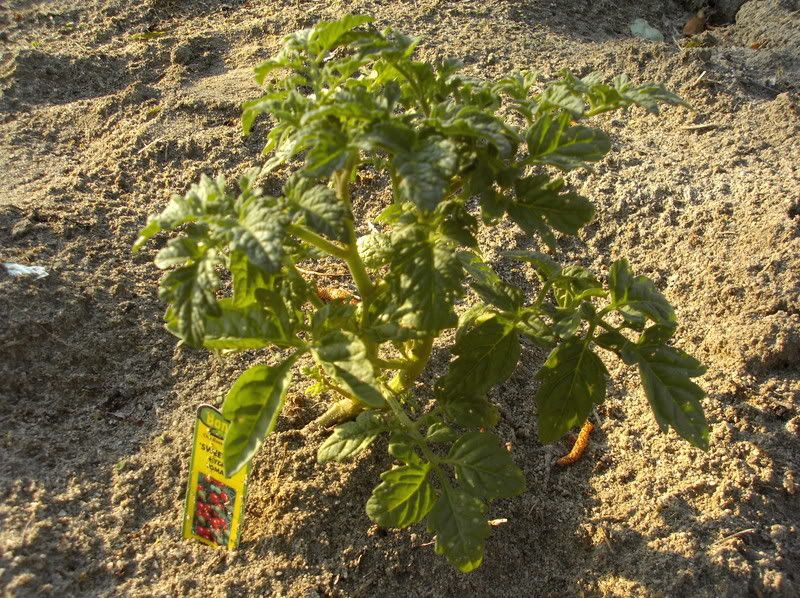 Corn...
Hope this works!!!!
Apr. 13, 2007 -
Yesterday was our anniversary of 17 years. We went out to eat together, alone. That was weird but fun. The waitress kept bugging me though. She was really trying to be nice but I felt like I was being rushed. She kept coming by and asking, "Is it good?" or "are you about done, or are you still nibbling?". I felt like saying, "I'll tell you when I'm done, okay? " They didn't give James much on his plate so he was done quickly. I felt weird eating by myself. The best thing was that the food was free! James was given a gift card about 6 or so months ago and we never had used it. Then we went to Walmart. James' boss also gave him $50 and said for him to take me out. Isn't God good? Well, since we already had the gift card we spent the money at Walmart....and then some. James got three ties and some dress socks. I picked the children out some playdough, markers, construction paper and glue. We got Joy- Anna a big car seat. She's about ready to move out of the infant seat. Okay, I didn't get myself anything. I can't think outside of my needs really...okay....there's always a Bosch Universal Mixer on my list but in the Lord's timing. LOL I could use another dress but I won't get that at Walmart. I'll have to go to Good Will or a yard sale. Anyway, we had fun although we felt strange being without the children. What was funny was us driving the 15 passenger for just the two of us. LOL We had fun together but were ready to see the wee ones safe here at home.
I need to catch up here on what we've ate the past two days and the costs.
Wednesday
Breakfast: cereal $3.00
Lunch: leftovers and three cans of soup $1.35
Supper: barbque pork chops, mac and cheese, green beans w/ potatoes $11.75
Total: $16.10
Thursday
Breakfast: cereal $3.00
Lunch: peanut butter and syrup on sourdough bread, leftovers $.75
Supper: children had spaghetti $3.50, James and I ate out for free.
Treat: frozen sherbert $3.00
Total: $10.25
Today, I plan on us having Ritzy chicken for supper along with some butter beans and salad. YUM! I am really having it rough figuring out what should be for lunch. I may go make some tortillas so we can have some soft tacos or something. Those are always so good with homemade tortillas! My friend, Sister April gave me her mom's recipe for those. I think I'll try to also make some homemade hamburger buns to freeze. I made some one time from Laine's recipes and they turned out really good..
Have a blessed day in the LORD.
Apr. 10, 2007 - April 10, 2007
Today proved to be a great one. We were able to get our chores and school done with ease. That is very well appreciated by this gal. I need all the help I can get! Today Dalton had his piano lesson. I didn't ask the teacher how he did because he didn't practice as he should. I kept forgetting to remind him. The weeks just fly by too quickly and each week I think, "is it piano day again? He didn't practice well!". I really have to get better at making him practice every day. Yes....scheduling is key. His teacher blessed us with a big bag of bananas. After telling James on the phone he suggested I make a banana pudding and so I did. I have enough left to make a few batches of banana nut bread too. That's on the agenda for in the morning. This will be a great breakfast treat.
Yesterday I never got to cooking those beans so I made salmon patties, steamed veggies, and rice and gravy instead. The total for all meals and beverages came to $11.70. Today's menu:
Breakfast: cheese grits and cereal with powdered milk
Lunch: leftovers from last night's supper
Supper: Pinto beans, fried link turkey sausage, fried potatoes and onions, cornbread
Dessert: banana pudding
Today's menu cost came to $9.50 for beverages and all.
I also bought a bag of candy for .50 that we all devoured. Yes, I know....bad me! Tomorrow we'll have leftovers for lunch again. Gotta love those leftovers!
As far as chores, this was dusting day for me. Right now I have a cold and dust is an allergy of mine anyway. So now I have a hoarse voice. Tomorrow I have on the agenda to mop the floors. I bought a scrub brush for $1 today so I can do it the "Ma Ingalls" way.....well for some of it anyway. I have no desire to spend all day scrubbing floors. I'll have a few loads of wash to work tomorrow as well. Oh, and it's my day to do dishes. Samuel and I are on one team and Dalton and Brittany are on the other and we rotate nights. It takes about 1 hr. and 15 minutes to do dishes and kitchen cleanup daily.
I am sorry that I can't get the pics up right now. Brittany does a lot of the work to my page(Ms. Know it all!) and while she was trying to fix it today the batteries in the camera died. By the way, I think she did a great job fixing my blog. I told her what I wanted and she did it. She also redid her's as well. She's thrilled to figure it out.
[
Comments - 1
]

Apr. 9, 2007 - Misc. Pictures

We had a HUGE blessing that the Lord sent out way. It waw $100 worth of groceries. I was given $100 to stock our pantry with. This was an unexpected surprise and one I'll never forget. I had much fun loading the buggies at Aldi. There are 60 cans of soup, many cans of tomatoes, tomato paste, beans, rice, tuna, oysters, peanut butter, jelly, pasta, mushrooms, mayonnaise, pineapple, salt, pepper, sugar, ketchup and more. Each time I use something from this I thank the LORD for how he provides for our family daily. He gives us what we need and He's an on time God.


Brittany has to load the pictures into the computer for me as I haven't taken the time to learn this yet. So I have some catching up to do in putting pics on my blog. Here are a few that I chose to share.

The beginning of this year James and a friend from church worked on putting in a new drain line for our septic system. This was a major project. This would have costs thousands of dollars but since we are do it yourselfers(remember the roof???) we saved a lot of money. I have to say that I was really shocked at how the yard looked. Hopefully the grass will grow back this summer. Here is a view facing toward the house. That is a long ditch leading to our home.
This is the ditch facing away from the house, toward the playground and field beside our home. The ditch went down into the earth about 8-9 feet at the end. Our yard was not child friendly for quite a while.
Actually, the major work was done on New Year's Day. It was cold, wet and miserable.
Brittany made these skirts for the wee girls. Aren't they cute? I need to buy matching short sleeved shirts for them to wear them this summer.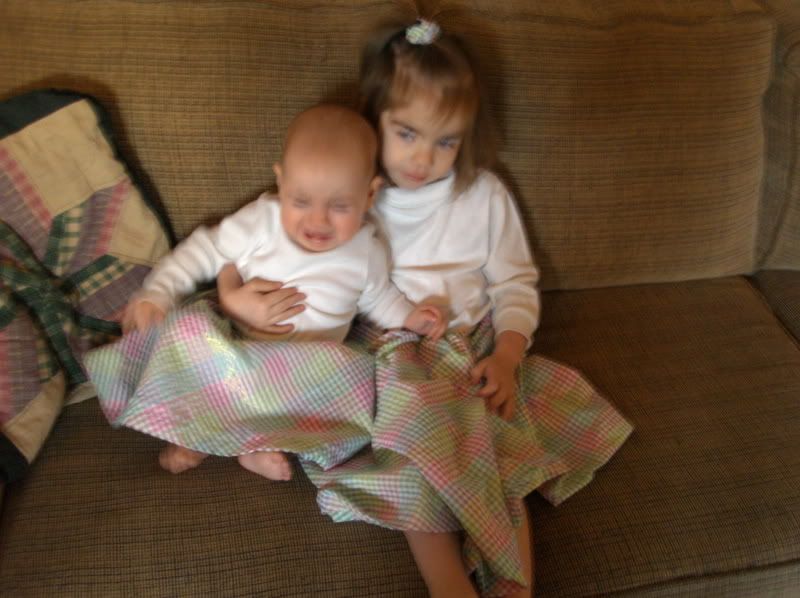 That's all the pics I have to share right now!
[
Comments - 2
]

Apr. 9, 2007 - Monday, April 9, 2007
Last week had a whirlwind of events and the LORD's face was shone in so many bittersweet events. We attended the funeral of our neighbor. We were able to learn a lot about our neighbor and many good things were spoken of him and his humorous nature. As it turns out he loved to sing and we never even knew. One day I plan on asking his wife if she has any tapes of him singing. I hope she does. We are praying that the Lord can fill this void that she will have with the loss of her husband of 57 years.
Here's some things that happened with our family this past week.~
~ Brittany was able to serve others by helping a close family of our's as they babysat children of another family we know. She helped in being another set of eyes over the children to make sure they didn't get into any undue mischief. She was gone for one day.
~ We were able to serve our neighbor by fixing a meal for her. I like cooking for others a lot and find more and more that this is a perfect way for ladies to minister to others. Sometimes I get weary in the kitchen and get burnout of three meals a day but there's something refreshing being able to serve one another.
~ I was able to find some sweet baby dresses for Joy-Anna for this spring/summer. I overlooked a whole set of dresses her size in storage. I am so glad to have found them! It's a good feeling to have the children's clothes ready for the next season. As far as I can see we will need a pair of sandals for Brittany and some dress shoes for Dalton and we're set.
~ We ate at a restuarant a little over an hour from here. We enjoyed a nice country drive out and back as well. The food was good and they had a small store in with it. It serves more as a little antique store but they also sell homemade breads. YUM!
~ I began our own sourdough starter on Saturday. I fed the starter yesterday and baked our first batch this morning. This bread is fabulous. I think I allowed it to rise a little too long as it fell a bit in the oven. Next time I won't let it rise so long. I wonder if I could add a bit of wheat flour to this recipe?
~ My mom watched two of our children while we went to the funeral on Friday. She helped me by also washing dishes while she was here. What a blessing! The cabinet was full of clean dishes when I got back and I am so thankful.
~ We were blessed by a lawn mower that someone gave us! We were in route to go buy one and in the process someone found out. He inquired to James about it. The man said he had one in his shed we could HAVE. God be the Glory! We were saved $350 through this. What a sweet blessing. Brittany, Dalton and I were so happy to get our grass cut as a surprise to James the next day when he got home from work.
~ I hit on a big deal at Bi-Lo this past week. I usually scan their reduced shelves for deals. I came across 12 pairs of No Nonsense pantyhose for .50 each! I grabbed every pair that Brittany and I could wear. This will be so great for the camp meeting next week. YES! I think the Lord put those there for us.
This week I have much on my plate as usual. We are all battling a cold right now but hopefully we can get over it quickly. We have to work double hard in school this week as we missed some last week and we will be off next week as well. I still have the goal of being out toward the middle of May.
We will be in preparation for a camp meeting we're going to next week, Lord willing. This is our third year going and we are so excited! What sweet refreshment this event has offered in the past and I feel confident it can do the same this year and even better. It runs from Monday-Wednesday.
I want to work on my current menu but until I can catch my breath and think it out I am going day by day. This morning we are having cereal and buttered sourdough bread. For lunch I think I will fix a tuna casserole. It's super cheap(no more than $1.75 for the whole thing) and something I can't fix much anymore. James forbids to eat it anymore. I had fixed it so much when were first married that he dislikes it now. For supper I am thinking of a pot of pintos, fried sausage, potatoes and onions with a cake of cornbread. This meal would be no more than $4.00. If I were to add up how much today's food cost would run along with beverages(tea, apple juice and coffee) I estimate no more than $9.50. This includes baby food for Joy-Anna. That would come to $1.19 per person today.
Have a blessed day/ week in the LORD.
Apr. 2, 2007 - Disclaimer: this could be depressing...sorry!
Well, this week is in full swing. We have begun our studies and have semi begun our chores. I am hoping for a good day and afternoon of accomplishments. I wasn't feeling so well this morning so was off to a slow start. I feel much better now and have a strong vision in sight. Many prayers are said for that vision as I know it's of the Lord.
This past week was an emotional rollercoaster. First my mom calls and says that my nephew is at the emergency room and is dehydrated.....they are running tests as something is pretty wrong right now. The next morning I hear that he's okay...he just had a virus and now an ear infection. Then I found out a day or two later that the couple we bought this house from 15 years ago have divorced and he's married to a much younger lady of whom I worked with at the bank. This really ripped at my heart as they seemed so happy. What went wrong? I am still upset about this. You'd think that after more than 30 years of marriage that "whatever" could be settled. Or that you love the other so much that you'd never want to hurt them. Okay, then a family from church has a major crisis as the wife's mom and dad are in a wreck. The mom has broken both legs and ribs. She might have to have a leg taken off. What an ordeal. Then yesterday morning our neighbor of 15 years calls to tell us that her husband had just died. My heart is so grieved. I was getting ready for church but that was delayed as I had to just go away and cry a bit. This is the second time in 3 years that someone came to me immediately to say their spouse is gone. I grieve with them and really don't want to imagine their personal feelings....to bury your one and only. What grief!
Tonight we have The Voice for the Unborn meeting. Then besides the funeral we'll have a, hopefully, normal week!!!!! I am ready for that!
Oh yes, last week we had our first co-op with a few families from our church. I think it went very smoothly for our first meeting! All of the moms want to be involved and the children did very well. We are extending our study on bouyancy this week with some books checked out at the library. We enjoyed a few experiments on this and so want to pick the children's brains to make sure they understand what was happening with what they saw. I did Five in a Row with the class and want to extend that with the younger ones this week. We did The Story about Ping. What a great book! There's so much to learn from books and so many things to bring out of the story.
Okay, I must go and get with the children. I am losing them. Have a blessed day!
[
Comments - 1
]